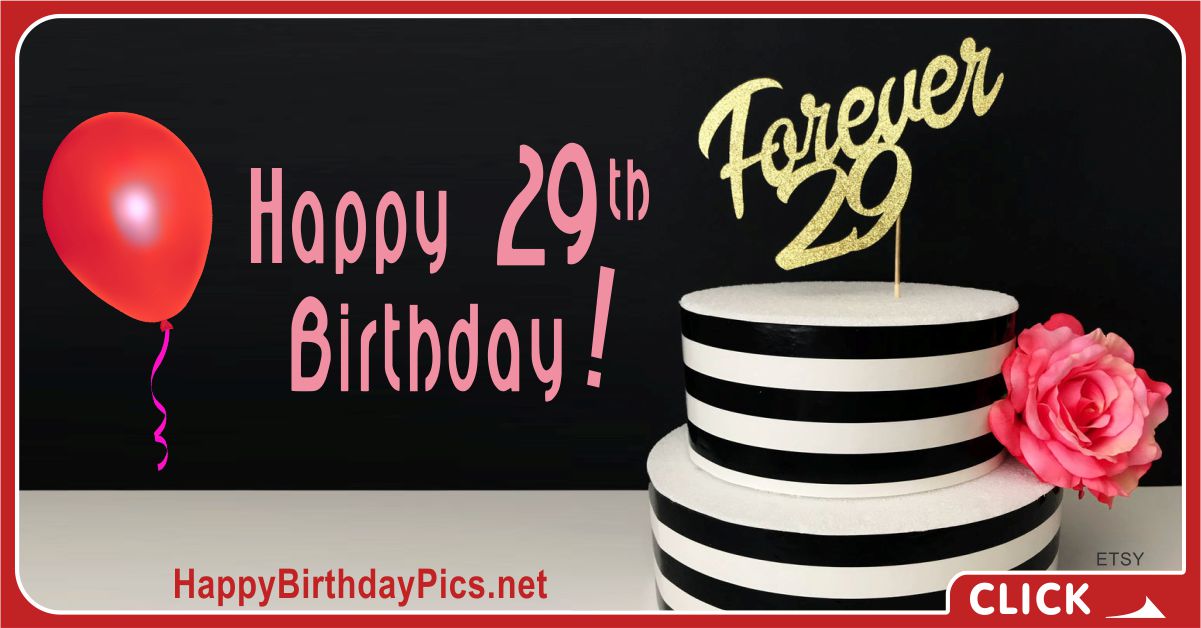 Happy Forever 29 Birthday
(Browse the website for similar cards.) — Happy birthday! I sent you this "Happy Forever 29 Birthday with Pink Rose" card to wish a very great birthday to you. I wish you many happy returns. I congratulate your twenty-ninth birthday with this "Happy Forever 29 Birthday with Pink Rose" birthday card.
Description of the "Forever 29" Card
You can send this card to 29-year-old women or men. However, if you have a certain level of intimacy with the person you are sending, do so … Because this card is a joke. The joke of having difficulty accepting the age of 30 and celebrating the 29th birthday several times … This joke is made with the word "twenty-nine". It is worth repeating, you should not make this joke to people you are not sincere. This card contains a two-layer white cake. The sides of the cake are decorated with black and white horizontal stripes and a large pink rose is attached to the side. A gold text-topper was placed on top of the cake. This is the joke mentioned: "Forever 29".
For More
«Pink Roses is an 1890 painting by Vincent van Gogh, one of his last works. It is now in the Ny Carlsberg Glyptotek, to which it was donated by Helga Jacobsen in 1923 – its catalog number is MIN 1843. It was painted during the last two months of his life, May to July 1890, which he spent in Auvers-Sur-Oise. (Wikipedia)»
Forever 29:
For more Age-Specific birthday cards like this "Happy Forever twenty-nine Birthday with Pink Rose" Card, you can go to Happy Birthday website and find more beautiful birthday cards to share on Facebook. You'll love them. Surely, you can send this "Happy Forever 29 Birthday with Pink Rose" e-card, to your friends who have a birthday.