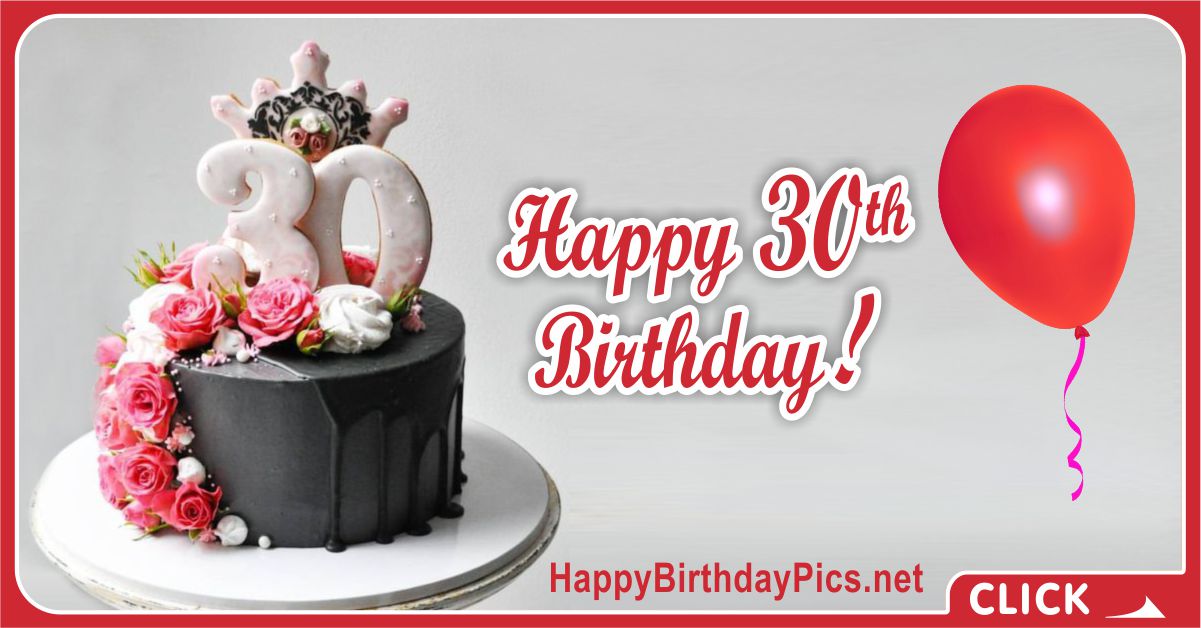 Happy 30th Birthday
(Browse the website for similar cards.) — Happy birthday! I sent you this "Happy 30th Birthday with the Crown" card to wish a very great birthday to you. I wish you many happy returns. I congratulate your thirtieth birthday with this "Happy 30th Birthday with Crown" birthday card.
Description of the "Happy 30th Birthday" Card
You can send this card to your male or female friends who are 30 years old. The thirtieth age is an important milestone in human life. The most striking thing on this card is the black cake on the left and its decorations. The color of the cake is black and a black cream is poured on it. A ribbon of pink roses surrounds the cake. Among the flowers, marshmallows and candies can also be seen. On top of the cake, the number 30 made with white cookies is quite large. Above this number, a crown made of white cookies was placed. On the right side of the card, there is a red balloon. The message of the card is in the middle.
For More
«A royal crown; an emblem of the monarchies. A crown is often an emblem of a sovereign state, usually a monarchy (see The Crown), but also used by some republics. A specific type of crown is employed in heraldry under strict rules. Crowns are also often used as symbols of religious status or veneration, by divinities or by their representatives, e.g. the Black Crown of the Karmapa Lama, sometimes used a model for wider use by devotees. (Wikipedia)»
Happy 30th Birthday:
For more Age-Specific birthday cards like this "Happy 30th Birthday with Crown" Card, you can go to Happy Birthday website and find more beautiful birthday cards to share on Facebook. You'll love them. Surely, you can send this "Happy 30th Birthday with Crown" e-card, to your friends who have a birthday.