Where can I see my upcoming birthdays on Facebook? HERE:
2023 Facebook Friend List and Upcoming Birthdays, HERE
● Please do not be lazy, READ the article carefully. PLEASE… This page will help you overcome the common problem with Facebook's Upcoming Birthdays app, which has been common lately. More importantly, thanks to this page, you will no longer have problems due to future Facebook changes after 2023.
How do I see my friends' birthdays?
HERE IS THE SOLUTION:

1. Be sure to read this article Here you will see the list of upcoming birthdays of your Facebook friends. You only need to read the article once. In the following days, you will get used to using the link on this page. You won't have any problems with this from now on.
People who are too lazy to read the article often form prejudices and start speaking badly. Therefore, we ask that toxic people who do not want to read do not use our website and our Facebook pages.
2. FIRSTLY: We do not ask for personal information from anyone. We do not ask for credit card numbers. We don't want money. We don't want you to send friend requests. We do not ask for password. We do not expect you to become a member of our website. We don't ask you to download or install an application. We don't want you to fill out a form. …etc… …etc…
3. Since we know that there are people who create such conspiracy theories because they are too lazy to read the article, we wanted to mention this at the beginning. We are just trying to help you, free of charge.
4. As the writing team of this website and the moderators of our Facebook pages on Upcoming Birthdays, we are not Facebook employees. We are Facebook users just like you. We know there is a challenge in accessing the Upcoming Birthdays list and we are trying to help you with this. This is everything!
5. Therefore, we are not the addressees of the words such as "Stop making changes so often, idiots" or "Give back the old app, clown" that we often see on our Facebook Pages. Anyway, commenting on Facebook is not a way to reach Facebook administrators. It doesn't work that way.
6. Negative comments written by people who are too lazy to read the article on Upcoming Birthdays Facebook Pages do nothing but demotivate people who are trying to help you. They don't expect thanks, but they don't deserve to be attacked either.
7. We love Facebook and know it well. Since we have computer training, we are trying to provide a solution to your problem about Upcoming Birthdays, albeit in a slightly different way. The solution we offer works properly, please be assured of that.
8. If you don't like the way we provide help, and instead of thinking "better than nothing" you think "I never want to use it", stop following our Facebook pages, be sure those pages will not follow you either. In this case, you do not need to read the rest of this article. We wish you a good day.
9. However, if your goal is to get help and see the Upcoming Birthdays of your friends on Facebook, please continue reading.
Now, let's see how the method we offer works… Reading this article just once will be enough and it will be useful for you. So please read on.
How can I find birthdays?
EASY SYSTEM:
HOW DOES IT WORK:
10. Our system allows viewing the Upcoming Birthdays list only with Facebook's own operating rules, without the need to install any application. That is: If you follow a Facebook page, the posts of that page will appear on your home page. You know this. Here, we only use this feature.
We see that some toxic people have objections such as "I don't have to follow your page." We give them infinite credit. They don't have to do anything. However, in this case they cannot expect to achieve anything. Because that's how the Facebook system works. If you don't follow our Facebook page, our posts will not appear on your Facebook home page. Very simple… It's actually something very easy to understand.
How to Find Birthdays on Facebook?
HERE IS THE ESSENCE OF OUR SYSTEM:
11. We have several pages on Facebook with the theme of Upcoming Birthdays. If you follow one of them, the "Reminder Picture" shared by that page every morning at 07:00 AM New York time will appear on your homepage. By clicking on that Reminder Image, you will come to this page you are currently reading. When you click on the relevant button on this page, you will see the Upcoming Birthdays list. That is all. It's that simple and easy.
You have 2 options: "Daily" and "Weekly".
12. DAILY: If you would like the Reminder Image to appear on your Facebook homepage EVERY DAY at 7:00 am (New York time), follow one of these Facebook pages:
■ Facebook.com/Upcoming.Birthdays.List
■ Facebook.com/Friend.Birthdays Reminder
■ Facebook.com/Friends.Birthdays List Today
■ Facebook.com/Birthday.Pics (Also, contains thousands of Happy Birthday e-cards)
13. WEEKLY: However, if getting a reminder every day is too much for you, and getting a reminder ONCE A WEEK (Friday, at 07:00 in the morning) is enough for you, then follow this page:
■ Facebook.com/Upcoming.Birthdays.Weekly.Reminder
14. A button you can easily find by browsing this page will take you to Facebook's Upcoming Birthdays list. It may seem long when explaining it, but the system is that simple.
In order for you to come to this post (where the button is located) and use the button, the Reminder Image will be available on your Facebook homepage every morning for you to click on.
15. Yes, the "Reminder Image" appears on your Facebook homepage at 7:00 a.m. New York time. However, by keeping the link to THIS (you are currently in) explanatory article, you can come to the article and click the button, WHENEVER you want:
■ HappyBirthdayPics.net/others/Upcoming-Birthdays-List-on-Facebook
REQUIRED WARNINGS:
The system is very simple, but there are some points you need to pay attention to in order to use it smoothly. We have mentioned these points below, do not neglect to read them. Reading them may answer some questions you may have.
16. If you follow several of our Upcoming Birthdays Facebook Pages linked above, the Reminder Image may appear on your homepage more than one. If this situation bothers you, you can choose one of the pages and unfollow the others.
17. Some of our visitors express their complaints such as "I can open the list every day, thank you. But a particular friend's birthday does not appear in the Upcoming Birthdays list." … Remember, if a friend has chosen to hide their birthday in Facebook Settings, it is not possible to view it.
18. Some of our visitors send us a complaint like this: "I followed your Facebook page, the Reminder Picture appeared on my homepage for a few days, but it is not visible anymore" … This situation arises from an arrangement regarding the working logic of Facebook. If you do not react to a post that appears on your home page, the Facebook artificial intelligence algorithm will think that you are not interested in it and will not show it to you in the following days.
So, when the Reminder Image appears on your homepage, giving it a "like" and/or writing a comment (even if brief) before clicking will prove that you're interested in it and ensure it's always shown to you. If you apply this constantly and share it on your profile once a week, your system will work properly for years without any interruptions.
19. As we mentioned above, we never ask for things such as money or credit card information for this service we provide. However, some malicious people may wander around Facebook and ask you for some information or ask you to send them a friend request. We learn that such incidents occur from the messages we receive, which contain misunderstandings such as "You say it's free, but you asked for my credit card number." … We never make such requests. Ban and block the people who make such requests, immediately and without hesitation.
20. The button (marked ► ◄) you will click on this page, may be named "Start", or "Open", or "Upcoming" button, and its location on the page may sometimes change. These changes, which can sometimes be seen depending on internet speed, have been placed in the plugin of the page to keep the visitor's attention alive. But it will not be difficult to find the button on the page.
Reminder Pictures for Upcoming Birthdays
21. The Reminder Images you will see on your Facebook homepage every morning or once a week are as follows. When you see these pictures on your Facebook homepage, it is important to first "like" them, add a comment (even if short), and share them on your profile page (every 8-10 days), as we mentioned above. You can then click on that picture and come to this page. The button you need to click will be waiting for you among the paragraphs here. Enjoy!
DAILY Reminder Picture for Upcoming Birthdays:

.
WEEKLY Reminder Picture for Upcoming Birthdays: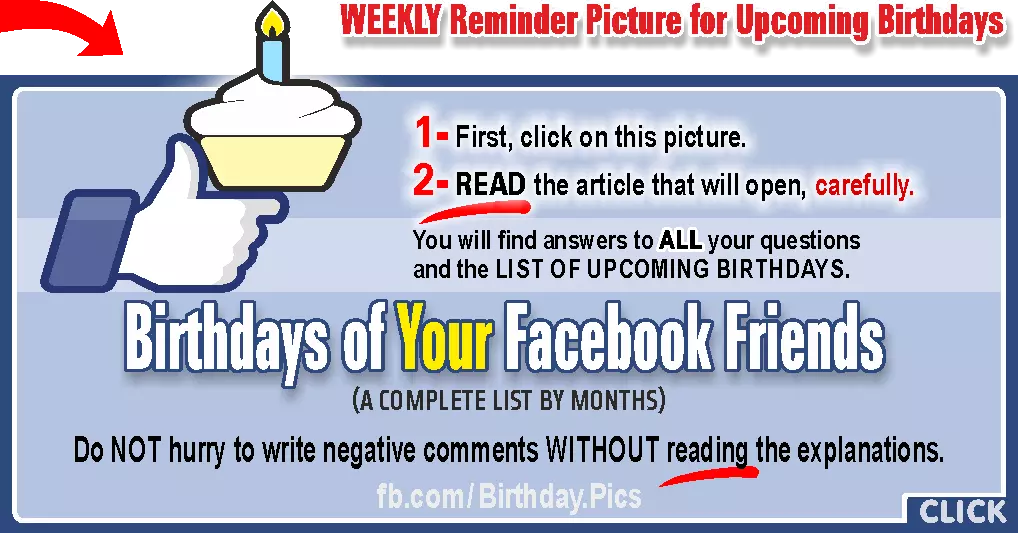 How do I congratulate my friends on their birthdays?
USE FREE E-CARDS:
22. You opened the Upcoming Birthdays list and saw which of your friends' birthdays are today. So, what will you do now?
● The website you are currently on contains thousands of "Happy Birthday" images for you to use as "e-cards". You can browse the website and choose a nice e-card and share it with your friend. These shares are also completely free.
● Since the Happy Birthday e-cards on the website are classified under various theme headings, it will be easy for you to find the type of Happy Birthday card you are looking for. Here are a few of these categories:
■ Age-Specific Happy Birthday e-Cards
■ Happy Birthday e-Cards With Name
■ Happy Birthday Video e-Cards
■ Funny Happy Birthday e-Cards …etc…
● Furthermore, just one minute after the Reminder Image appears on your Facebook homepage, one of the thousands of Happy Birthday eCards will also pop up on your homepage. You can easily (and for free) celebrate your friend's birthday by sending the link of that e-card to your friend.
That's all you can do by using our pages to see your Facebook friends' Upcoming Birthdays. We hope you will be satisfied with this help system. You may not read further from here. But, if you like our work and want to support it, please continue reading.
How can you support us?
SUPPORT:
If you'd like to support our efforts to help people access the Upcoming Birthdays list, there are at least two things you can do:
23. In the comments on our Facebook page, we see that many people say wrong and unfair things about our system because they do not want to read the article. More importantly, these people cannot benefit from the help here because they mislead themselves by being prejudiced.
When you see such people on our Facebook Upcoming Birthdays pages, you can reply to them and advise them to click on the picture and read this article.
While making these reminders, you can give the paragraph number in this article of the subject you want to talk about as a reference. These numbers are included for this purpose.
Thus, we can reach more people. Because, after reading this article, we don't think there are still people who will say "it's fake", "doesn't work" etc. Reading and knowing is what makes a person human.
24. You can provide very important support by sharing the link of this page on Facebook and other social media platforms such as Twitter, Instagram, Whatsapp, Twitch, Pinterest. We would be especially grateful if you repeat this at regular intervals.
Thank You So Much!..
———————
Add this page to your "favorites" to take advantage of these benefits.
You are currently on a website that includes FREE Birthday e-Cards. To use these e-cards every day, click HERE to like and follow our Facebook Page.
▼ Video Description For Upcoming Birthdays List:▼
Why can't I see my friends birthdays on Facebook?
● Accessing the Birthdays list has become a big problem lately, as Facebook has recently accelerated development work on the system. Moreover, since the way of access changes frequently, we thought it would be useful to offer people a way that will never change.
● IMPORTANT: This solution will also protect you from losing the Birthday List during the changes that Facebook will make from now on. Because we will always keep the path here ACTIVE.
Related Terms
Facebook friends' upcoming birthdays, Friends birthday list, Whose birthday is today? How can I find out my Facebook friend's birthday? How can I see upcoming birthdays?
How do I see upcoming birthdays on Facebook? How do I look at birthdays on Facebook?..
Where can I see my upcoming birthdays on Facebook?
How can I see all my friends birthdays?
How can I find birthdays?