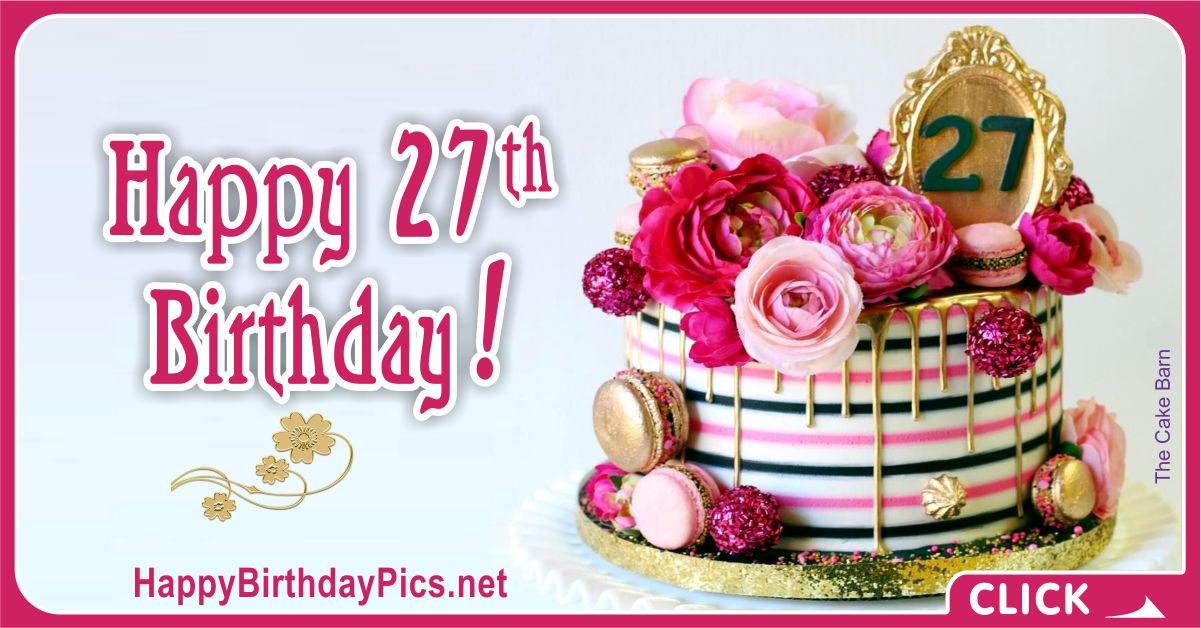 Happy 27th Birthday
(Browse the website for similar cards.) — Happy birthday! I sent you this "Happy 27th Birthday with Gold Frame" card to wish a very great birthday to you. I wish all your wishes come true. I congratulate your twenty-seventh birthday with this "Happy 27th Birthday with Gold Frame" birthday card.
Description of the "Happy 27th Birthday" Card
It is hard to say that the cake on this card is plain. It even has a rather complicated decoration. The cake is surrounded by horizontally drawn white, dark green and pink lines. Then, molten gold was poured over it. The cake was placed on a gold tray. Gold, purple and pink macarons are placed on the sides of the cake. Also, the top of the cake is covered with decorative elements. Macarons, candies, and flowers completely cover the cake. The flowers are light pink, pink and white roses. Among all these, a small vintage frame made of gold stands out. Inside the frame, there is a number written in bold green numbers: 27. On the left side of the card, the birthday message and a gold brooch take place.
For More
Happy 27th Birthday:
For more Age-Specific birthday cards like this "Happy twenty-seventh Birthday with Gold Frame" Card, you can go to Happy Birthday website and find more beautiful birthday cards to share on Facebook. You'll love them. Surely, you can send this "Happy 27th Birthday with Gold Frame" e-card, to your friends who have a birthday.