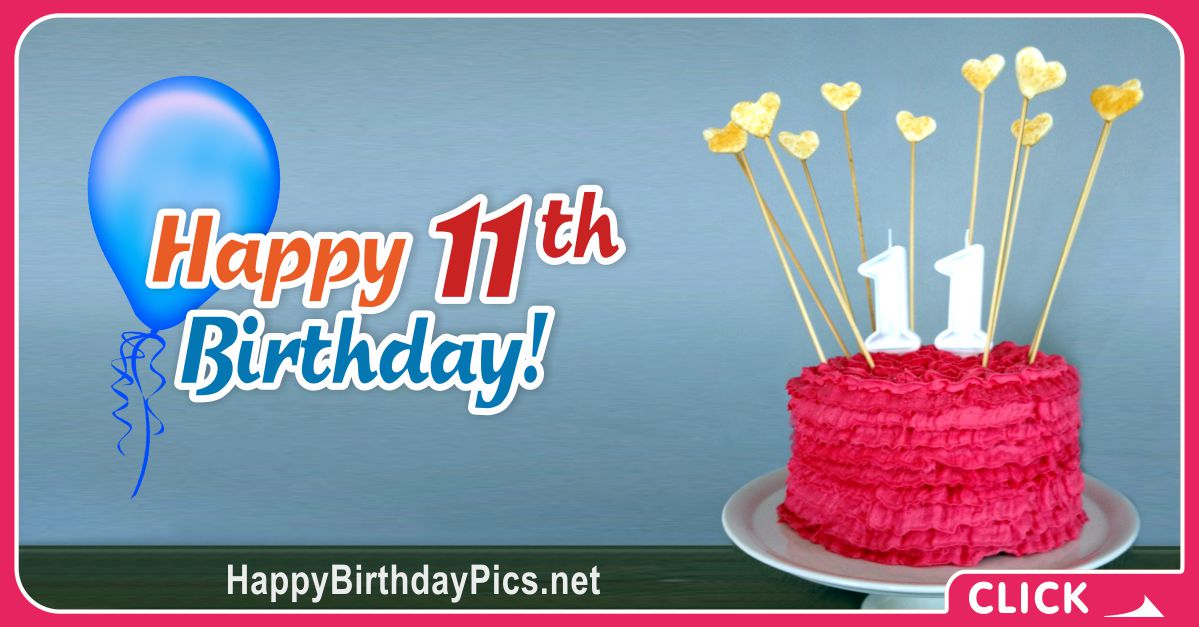 Golden Hearts 11th Birthday
(Navigate the website for other similar ones.) I wanted to send this Golden Hearts 11th Birthday e-Card, to wish a happy birthday, to a young one. Today, the young one is turning her/his eleventh birthday. With this magenta cake picture on the birthday e-card, I congratulate this young one's eleventh birthday. I wish all her/his wishes come true, during life.
Description of the "Golden Hearts 11th Birthday" Card
Of course, the most important element of this e-card is the cake in magenta color. It is taking place on the right side of the e-card. The cake has a fluffy look with decorations on it. There are eleven golden hearts placed with thin bars on the cake. They are yellow candies, of course. On top of the cake, there is number 11 made with candles. On the left side of the card, there is a blue balloon and the birthday message of the card: "Happy 11th Birthday!". The background color of the card is gray-blue and the card has a magenta frame.
For More
«11 Birthdays is a children's time loop novel written by Wendy Mass and published in 2009 by Scholastic Press. It is the first novel in the Willow Falls series. The novel follows the life of a young girl named Amanda Ellerby who has spent each of her first ten birthdays with the same boy, her best friend Leonard "Leo" Fitzpatrick. With her 11th birthday fast approaching, a falling out between the two friends has caused a shift in this birthday tradition leading to consequences both of them never could have imagined. Chosen as a 2009 Library Guild Selection, this novel has been the recipient of various nominations and awards across the country. (Wikipedia)»
Additionally, for more Age-Specific birthday cards, you can go to HappyBirthdayPics.net and find more beautiful birthday cards to share on Facebook. Surely, you can share this "Golden Hearts 11th Birthday Card" with your friends who have a birthday.