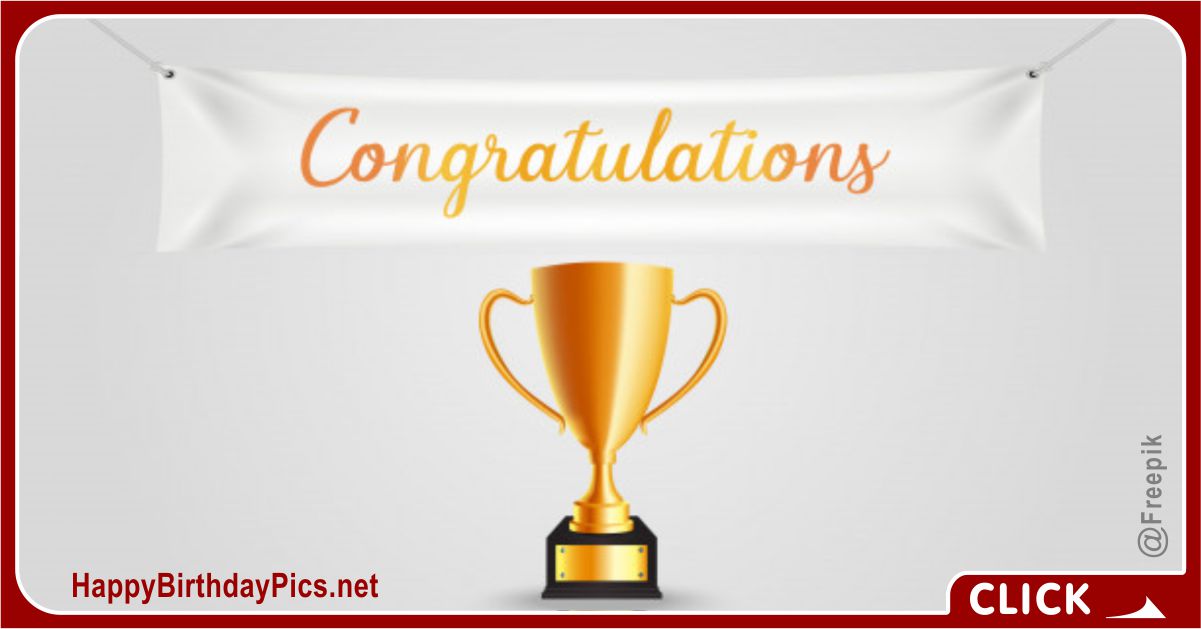 Congratulatory Message with Trophy Cup
A Celebration of Success: Sending Warm Congratulations with a Trophy Cup… In a world where accomplishments are celebrated and hard work is acknowledged, there are few gestures as iconic and cherished as receiving a congratulatory message paired with a symbolic trophy cup. It is a testament to one's dedication, resilience, and achievement, encapsulated in a tangible symbol of recognition. Today, I join in the chorus of admiration and extend my heartfelt congratulations to you through this special "Congratulations Award Cup Trophy" card.
Congrats! Your journey to this moment, your triumph, is a testament to your unwavering commitment and your indomitable spirit. Whether it's a personal milestone, a professional accomplishment, or a well-deserved accolade, this trophy cup represents the pinnacle of your dedication. It symbolizes the countless hours of hard work, the sacrifices you've made, and the relentless pursuit of excellence that define your character.
I post you this "Congratulations Award Cup Trophy" e-card for I think you deserve the best compliments, best gifts, the best awards.
It is not just a trophy cup; it's a reflection of your passion and determination. It stands as a reminder that dreams are attainable through perseverance, and your success is an inspiration to those around you. As you hold this trophy cup in your hands, know that you hold the admiration and respect of everyone who has had the privilege to witness your journey.
This congratulatory message goes beyond mere words; it is a heartfelt expression of the joy and pride we all share in your accomplishment. It is a small token of our appreciation for the dedication and hard work you've put in, and it serves as a symbol of our belief in your continued success.
As you celebrate this moment, may you continue to strive for greater heights, setting new goals and achieving them with the same passion that brought you here today. Know that your journey is an inspiration to us all, a reminder that with dedication and perseverance, anything is possible.
So, congratulations once again! May this "Congratulations Award Cup Trophy" card serve as a tangible reminder of your achievements and a source of motivation for the exciting journey that lies ahead. Cheers to your success, and may your future endeavors be as fruitful and fulfilling as this momentous occasion.
Description of the "Congratulations Award" Card
This greeting card is suitable for many successes, especially sporting achievements. Apart from sports achievements, it is also suitable for any success in competitive events. You can use this card for achievements in competition-style events. Achievements at school and at work are appropriate for any event related to entering the degree and being first. Although it is not conducive to congratulating events such as engagement, marriage, new home, new baby, it can be used in all "winning" style events.
This card includes a gold trophy cup and a cloth banner in front of a gray background. One word greeting message on the banner is located. This is a Congratulations Award e-card, the background color of the card is gray, and congratulatory message of the card is just: "Congratulations!".
For More
For more Congratulations cards like this "Award Cup Trophy", you can go to Happy Birthday website and find beautiful greeting cards to share on Facebook. You'll love them. Surely, you can share this "Congratulations Award Cup Trophy" card, when you wish to congratulate a successful friend, team or family.