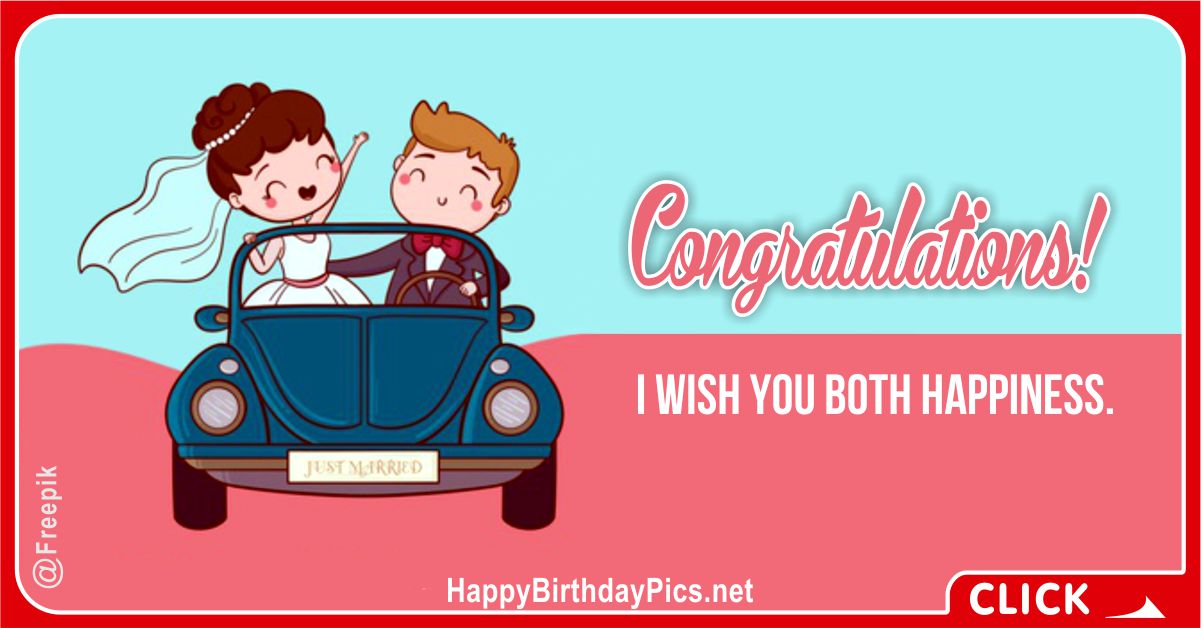 Wedding Congratulations E-Card
Celebrating a New Journey: Warm Wedding Congratulations… As you embark on this beautiful journey of togetherness, I extend my heartfelt congratulations to you on this momentous occasion. This "Wedding Congratulations" e-card is a small token of my immense joy and best wishes for your new life together.
The union of two souls in love is an occasion of pure delight, and your commitment to each other is truly commendable. From this day forward, may your lives be filled with boundless love, laughter, and endless adventures.
I firmly believe that deserving hearts like yours should be showered with the best compliments, the most exquisite gifts, and unforgettable travels. Just as the sun rises anew each day, so should your married life be a daily renewal of love, trust, and joy.
Life is a journey, and today marks the beginning of a wondrous voyage for both of you. It's a journey that will take you to incredible destinations, both in the world and in your hearts. May your travels together be filled with excitement, exploration, and unforgettable memories.
In this grand adventure called marriage, remember to take breaks and find moments of rest and rejuvenation. These moments of quiet reflection and shared relaxation will strengthen the bonds between you and provide the necessary sustenance for a lasting love story.
Every success story is adorned with well-earned awards and recognition, and your love story is no exception. Cherish every moment you spend together and celebrate each milestone, whether big or small. Each step you take together is a testament to your unwavering commitment and love for one another.
As you exchange your vows and slip on those "gold wedding rings," may they symbolize not just the precious metal, but also the enduring and priceless love you share. May they serve as a constant reminder of the promises you've made to each other today, and may they gleam as brightly as your smiles in the years to come.
Once again, congratulations on this momentous occasion. May your marriage be a symphony of love, a masterpiece of partnership, and a canvas where you paint the most beautiful memories together.
With all my love and warmest wishes…
Description of the "Wedding Congratulations" Card
This greetings design does not suit every occasion, it belongs to a certain kind of event. You can only use it for wedding congratulations. It has nothing to do with business achievements, outstanding achievements at school, or sports wins. If you have someone newly married among your neighbors, relatives or friends, it is very convenient to send them. A wedding is the beginning of a marriage that is already a happy event, but you can increase happiness by sending this card. When you go to the page of this card, you will see the "share" buttons on the bottom of the card. Using those buttons, you can easily send this card to your newlywed friends.
This e-card features a very stylish and very cute design. On the left side of the card is a car and in it a groom and a bride. Both are happily smiling. The bride is dressed in a wedding dress. The groom is also dressed in a very elegant suit with a red bow tie. A happy, cheerful and friendly picture …
This is a Wedding Congratulations card, the background color of the card is blue-pink, and congratulatory message of the card is: "Congratulations! I wish you both happiness".
For More
For more Congratulations cards like this "Wedding Congratulations" card, you can go to Happy Birthday website and find beautiful greeting cards to share on Facebook. You'll love them. Surely, you can share this "Wedding Congratulations" e-card, when you wish to congratulate a friend.