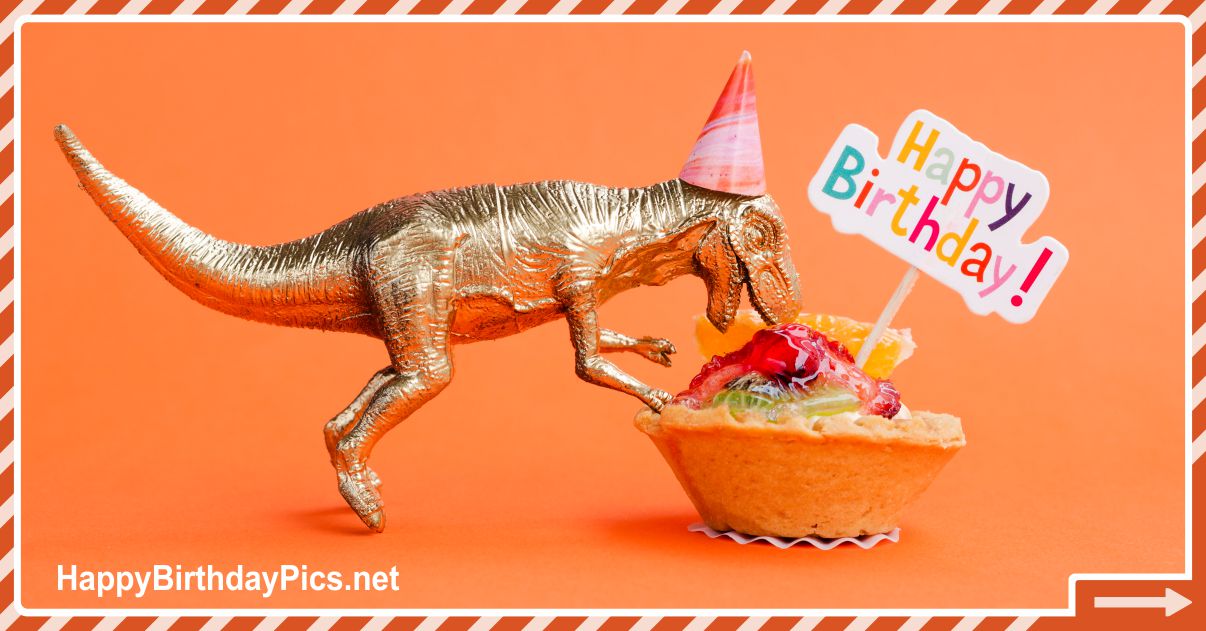 Throw a Dinosaur Themed Birthday Party
I chose the "Throw a Dinosaur Themed Birthday Party" e-card for you. The number of people who have seen dinosaurs is decreasing, and as they decrease, their value increases. That's why you are such a valuable person. I hope your birthday will be very fun and happy. To that end, I'm hoping you'll throw a dinosaur-themed birthday party. I want to wish you a happy birthday again. See you at the party. Happy Birthday to you!
About the "Throw a Dinosaur Themed Birthday Party" e-Card
Designed on a bright orange background, the first thing that catches the eye in this e-card is a dinosaur made of gold with golden sparkles. The dinosaur is eating fruits on top of a large cupcake. "Happy Birthday" reads a sign attached to the cupcake. The golden dinosaur looks very cute with its pink birthday party hat on its head.
My dinosaur theme birthday party suggestion is, of course, a joke. So, what other themes can be used for birthdays? Here are some of my suggestions on this subject:
10 Themed Birthday Party Ideas: Exploring Creative Themes
Birthdays are a special time for celebration, and one way to make them truly memorable is by hosting a theme birthday party. Themed parties add a unique and fun element to the festivities, allowing guests to immerse themselves in a particular world or concept. In this article, we'll explore a variety of themed birthday party ideas to inspire your next celebration.
1- Superhero Extravaganza
Let's kick off the list with a classic theme that's beloved by all ages – superheroes. Whether you're a fan of Marvel or DC Comics, there's no shortage of characters and storylines to choose from. Encourage guests to come dressed as their favorite superheroes or villains, and decorate the venue with comic book-style graphics. Activities can include trivia games, superhero obstacle courses, and, of course, a cake with a superhero emblem.
2- Under the Sea Adventure
Dive into the depths of the ocean with an "Under the Sea" themed birthday party. Transform your space into an underwater paradise with blue and green decorations, seashells, and fishnet drapery. Encourage mermaid and pirate costumes, and plan activities like a treasure hunt or underwater-themed crafts. Don't forget to serve seafood-inspired dishes and a cake shaped like a clam or a treasure chest.
3- Hollywood Glamour
Roll out the red carpet and host a Hollywood-themed birthday party for a touch of glamour. Invite guests to dress as their favorite movie stars, and decorate with gold, black, and silver accents. Set up a mini "movie premiere" area with a backdrop for photos. You can even have an award ceremony with personalized trophies for various categories like "Best Dressed" or "Best Actor." Serve elegant cocktails and movie theater-style popcorn.
4- Space Odyssey
Explore the cosmos with a space-themed birthday party. Decorate with stars, planets, and astronaut cutouts to create a galactic atmosphere. Consider a space-themed costume contest and educational activities like stargazing or a planetarium visit. Serve "space food" like freeze-dried ice cream and rocket-shaped cake pops.
5- Wild West Adventure
Saddle up for a Wild West-themed birthday party. Transform your space into an old-timey saloon with wooden barrels, cowboy hats, and wanted posters. Activities can include a "shootout" with water guns, line dancing lessons, and a Western-themed scavenger hunt. Serve up classic cowboy grub like chili, cornbread, and a cowboy boot-shaped cake.
6- Enchanted Forest
For a whimsical and magical birthday party, consider an enchanted forest theme. Decorate with fairy lights, moss, and woodland creatures. Encourage guests to wear fairy or woodland creature costumes. Activities can include a scavenger hunt for mythical creatures, fairy tale storytime, and a cake adorned with edible flowers and mushrooms.
7- Carnival Fun
Step right up to a carnival-themed birthday party filled with games, popcorn, and cotton candy. Set up carnival booths with classic games like ring toss, duck pond, and a fortune teller booth. Provide tickets for guests to use at the games, and offer prizes for winners. Create a festive atmosphere with colorful decorations, striped tents, and a vintage popcorn machine.
8- Time Travelers' Ball
Take a journey through time with a time travel-themed birthday party. Decorate different areas of your venue to represent different eras, from the roaring twenties to the disco era. Encourage guests to dress in their favorite period costumes. Plan activities related to each era, like swing dancing or a disco dance-off. Serve cuisine from different time periods, and don't forget a multi-era cake.
9- Luau in Paradise
Bring a taste of the tropics to your birthday celebration with a Hawaiian luau theme. Decorate with leis, tiki torches, and tropical flowers. Encourage guests to wear Hawaiian shirts and grass skirts. Activities can include hula dancing lessons, a limbo competition, and a ukulele sing-along. Serve up tropical delights like pineapple skewers and a Hawaiian-inspired cake.
10- Science Lab Party
For a unique and educational twist, consider a science lab-themed birthday party. Decorate with beakers, test tubes, and colorful potions. Plan science experiments and demonstrations that guests can participate in, such as creating slime or launching vinegar and baking soda rockets. Serve "mad scientist" snacks and a cake that looks like a periodic table or a laboratory experiment.
Conclusion
Themed birthday parties are a fantastic way to make your special day even more memorable. Whether you're a fan of superheroes, fairy tales, or outer space, there's a theme to suit every interest and age group. Get creative with your decorations, activities, and menu to ensure your themed birthday party is a smashing success. So, pick your favorite theme and start planning your next unforgettable celebration!
Happy Birthday – Throw a Dinosaur Themed Birthday Party:
For more amusing and humorous birthday e-cards like this "Happy Birthday and Throw a Dinosaur Birthday Party" e-card you can have a look at Funny Happy Birthday e-Cards section on the website and find more laughing and ludicrous birthday e-cards to share on Facebook. You can also find humorous birthday e-cards on Facebook. Of course, you can send this "Happy Birthday – Throw a Dinosaur Themed Birthday Party" e-card to your friends when they have a birthday.