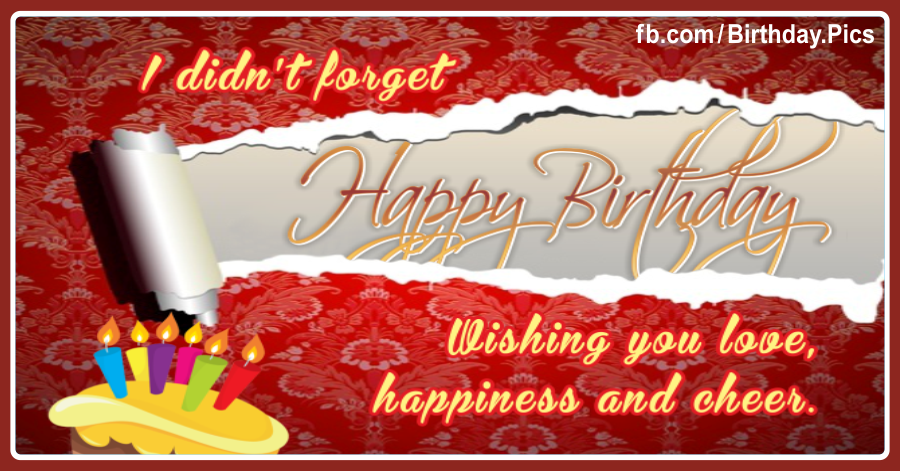 Happy Birthday Card (I Didn't Forget) …
I Didn't Forget Your Birthday
Here we are, it is your specialy day. Maybe you thought that I would not greet your day. But you are precious to me. So, no, of course I Didn't Forget! Happy Birthday! May your birthday be perfect and dreamy. I am wishing for you that everything you want come true. May you have the change to buy everything you want this year. If you are planning to redecorate your home, I hope you get the best decoration for your home. Actually, no. I hope you buy a new home this year. Hopefully a nice house like in your dreams. Even if it is with mortgage, I hope you can get the most favorable mortgage terms.
Description of I Didn't Forget Birthday Card
On this birthday card, we see a design that consist of combination of some illustrations, texts and a wallpaper. Background of the card consists of a dark-red wallpaper with a golden damask pattern. This wallpaper seems to be torn in the middle. This tear reveals some texts inside. This golden text has handwritten style and the words read: "Happy Birthday". There are also a couple of other texts on the wallpaper, out of the tear. The texts read "I did not forget." and "Wishing you love, happiness and cheer." respectively. And you can see a birthday cake on the bottom-left corner. It is a colorful cake illustration with some candles on it.
I Didn't Forget Birthday Messages
As a true friend, I will remember your birthday, but your age is not so certain. Every year, you will know that I didn't forget your birthday, but you will need to tell me your age, the age that you feel as. Perhaps you only get to young once. But you only get old if you allow yourself to do. And no matter how old you look, we can be young together. We can party just the way we want no matter how many years pass, can't we?