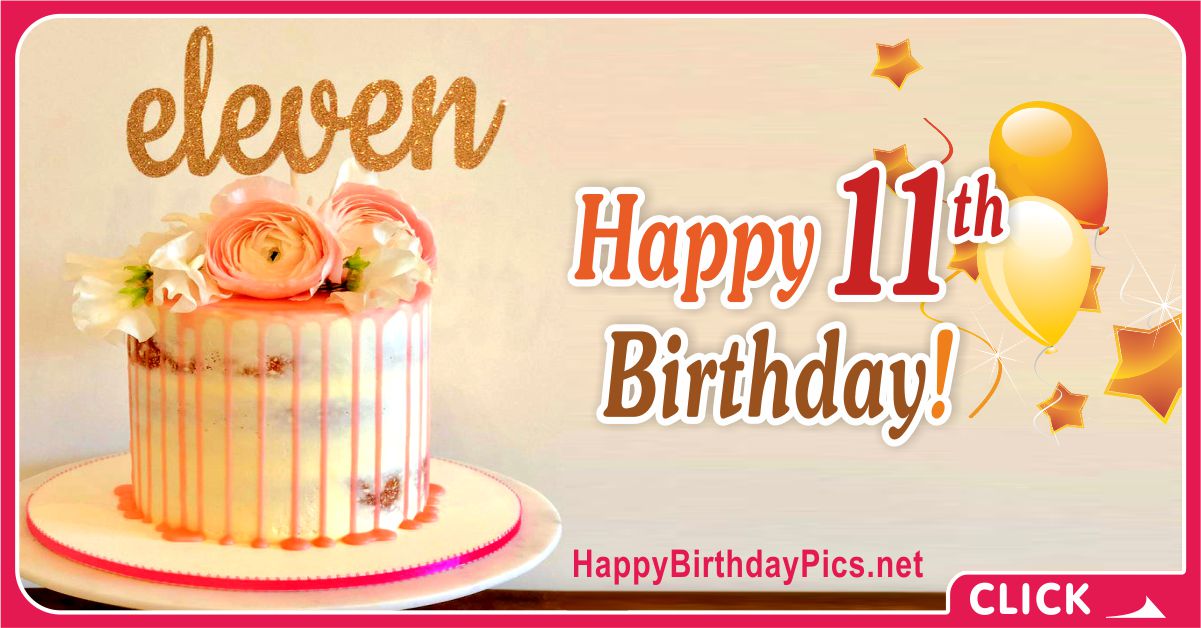 Pink Roses 11th Birthday
(Navigate the website for other similar ones.) I sent this Pink Roses 11th Birthday card because, I wish a happy birthday, to you. Today, another pink rose, you are turning your eleventh birthday. With this cake with pink roses on it, I congratulate you on your eleventh birthday, I wish all your wishes come true, during your life.
Description of the "Pink Roses 11th Birthday" Card
The most striking element on this e-card is the pink roses on the cake. The white cake is taking place on the left side of the card composition. The cake is a white cake with various flowers on it. Among these flowers, two pink roses are particularly noteworthy. On top of the cake, there is a cake topper text, "eleven" in gold color. On the right side of the card, there are two balloons, yellow and orange colors, and stars and the birthday message of the card: "Happy 11th Birthday!". The background color of the card is cream and the card has a magenta frame.
For More
«Pink is the color of sweetness and joy, which is why pink roses in various shades are the perfect gift to express admiration, offer congratulations or thanks, or even encourage loved ones to get well soon. Any time you want to send a speedy message of heartfelt affection, regardless of the occasion, your best bet is to opt for same-day pink rose delivery. Whether you're sharing in joy or sorrow, you want your pink roses to arrive as soon as possible, and same-day delivery makes it happen. Many roses come in shades of pink, but some blooms are definitely more popular. Some of the most popular pink roses today include the zesty, magenta Pink Knock Out; the fragrant, hot pink Zephirine Drouhin; the coral American Beauty; and the frilly, blushing Jacques Cartier. However, you can't go wrong with the sweetly-scented, classic Tiffany rose, with its tight swirl and perfectly shaped petals. (1800flowers)»
Also, for more Age-Specific birthday cards, you can go to HappyBirthdayPics.net and find more beautiful birthday cards to share on Facebook. Surely, you can share this "Pink Roses 11th Birthday Card" with your friends who have a birthday.