Happy 27th
Birthday
with Pastel Theme Card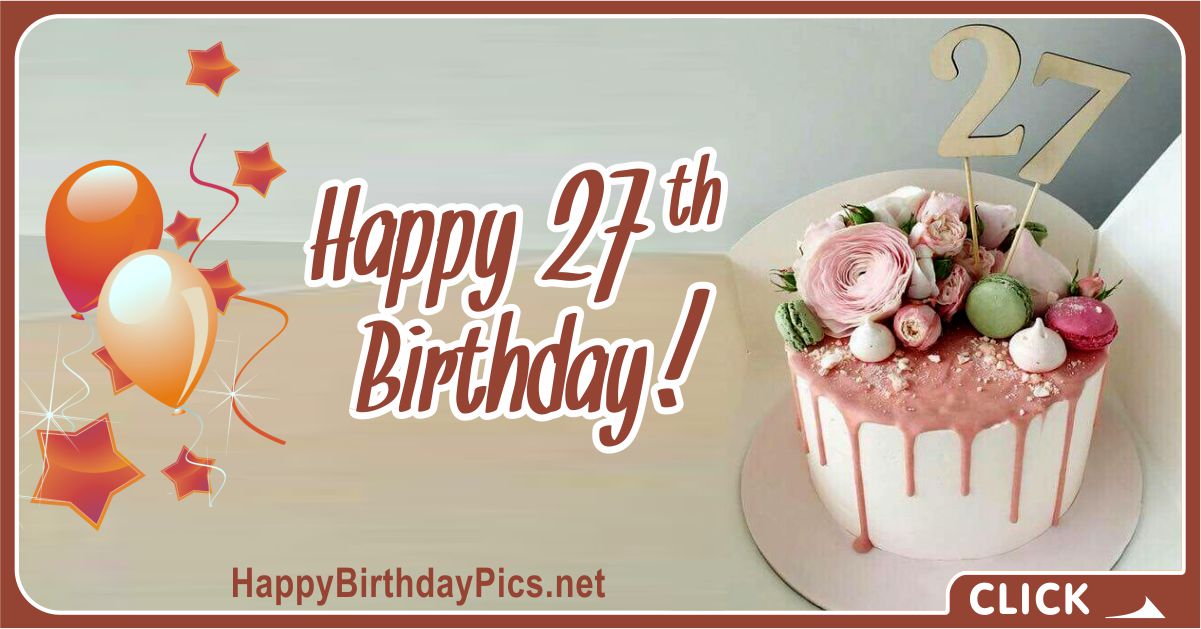 Happy 27th Birthday
(Browse the website for similar cards.) — Happy birthday! I sent you this "Happy 27th Birthday with Pastel Theme" card to wish a very great birthday to you. I wish all your wishes come true. I congratulate your twenty-seventh birthday with this "Happy 27th Birthday with Pastel Theme" birthday card.
Description of the "27th Birthday" Card
The most important feature of this birthday card is that it contains mostly pastel colors. The background color, the color of the cake, the balloons and scripts have pastel colors. On the right side of the card, a white cake was poured with pink cream. On top of the cake, there are many macarons with pastel colors. There are also flowers in pastel colors. Among the flowers, a pastel green number is placed: 27. On the left side of the card are two balloons and three-dimensional stars. In the center, the message of the card appears: "Happy 27th Birthday".
For More
«Pastels or pastel colors belong to a pale family of colors, which, when described in the HSV color space, have high value and low to intermediate saturation. The name comes from pastels, art media characteristics of this color family. The colors of this family are usually described as "soothing". Pink, mauve, and baby blue are commonly used pastel colors, as well as magic mint, peach, periwinkle, and lavender. There is also a type of goth style called pastel goth which combines the pastel color palette with classical goth fashion elements. (Wikipedia)»
27th Birthday:
For more Age-Specific birthday cards like this "Happy 27th Birthday with Pastel Theme" Card, you can go to Happy Birthday website and find more beautiful birthday cards to share on Facebook. You'll love them. Surely, you can send this "Happy 27th Birthday with Pastel Theme" e-card, to your friends who have a birthday.