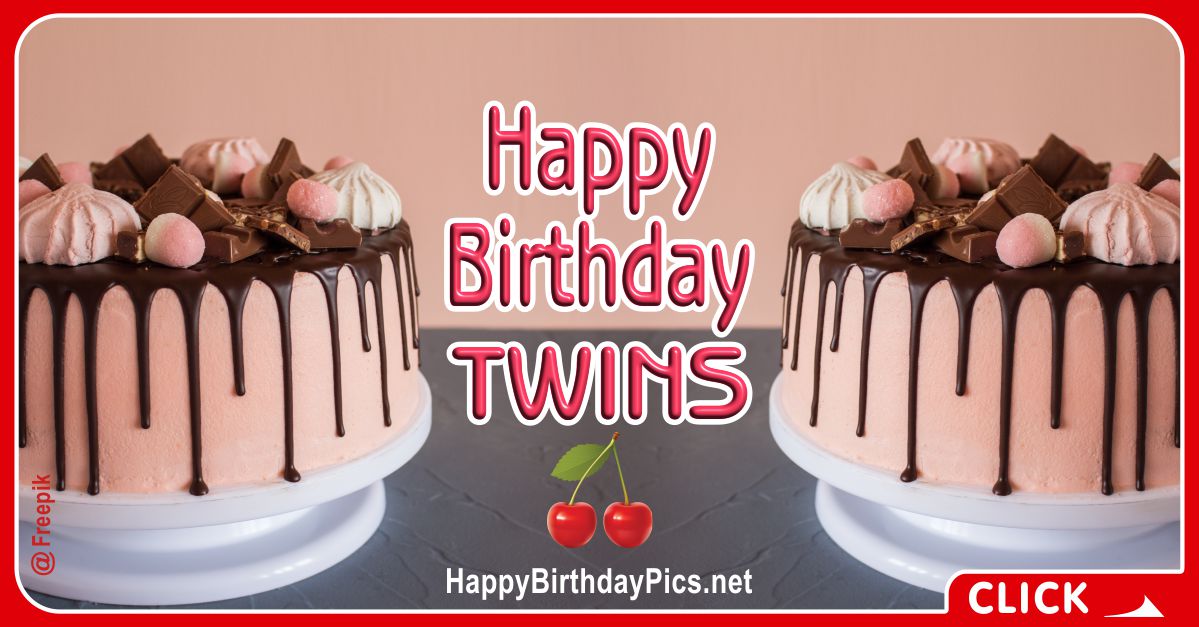 Happy Birthday Message with Twin Cakes
Celebrating Twins with "Happy Birthday Message with Twin Cakes" E-Card… Double the joy, double the laughter, and double the celebration – it's a special day for two extraordinary individuals who share not only their genes but also their incredible bond. Today, we send our warmest wishes and heartfelt birthday greetings to these remarkable twins, the dynamic duo who brighten our lives in so many ways. This "Happy Birthday with Twin Cakes" e-card is a small token of our affection and admiration for you, dear twins.
As we mark this momentous occasion, we can't help but marvel at the uniqueness of twinhood. Twins, like the delicious pair of chocolate cakes featured on this e-card, are a delightful blend of similarities and differences. The cakes themselves are a testament to the sweetness of life, with layers of rich chocolate and creamy vanilla, symbolizing the layers of love and shared experiences between you two.
Adorning these scrumptious cakes are an array of biscuits and crumbled chocolate bars, serving as a reminder that life is full of unexpected surprises and delightful moments waiting to be savored. Just as these cakes are adorned with sweet embellishments, so are your lives filled with the countless sweet memories you've created together.
"Happy Birthday Message with Twin Cakes" e-Card
At the bottom center of the e-card, you'll find twin cherries, a charming touch that underscores the theme of duality. Just like twin siblings, these cherries share a close bond, growing side by side in harmony. It's a fitting symbol of the unity and connection you share, and it's a reminder that your lives are intertwined in the most beautiful way.
As you blow out your birthday candles today, may your wishes be as unique and special as the two of you. May your individual dreams and aspirations continue to flourish, even as you celebrate the shared journey that is your life together. Just as the flames of the birthday candles dance in harmony, so do your spirits, synchronized in love and friendship.
So, here's to another year of shared laughter, inside jokes, and unforgettable moments. Here's to the unwavering support and understanding that only twin siblings can provide. And here's to the "Happy Birthday with Twin Cakes" e-card, a sweet reminder of the love and admiration that surrounds you on this special day.
"Happy Birthday Twins
As you enjoy your chocolate cakes (hopefully as much as you enjoy each other's company), remember that you are loved, cherished, and celebrated not just today but every day. Happy birthday, dear twins! May your day be as extraordinary as the bond you share, and may your future be filled with endless joy and sweet surprises.