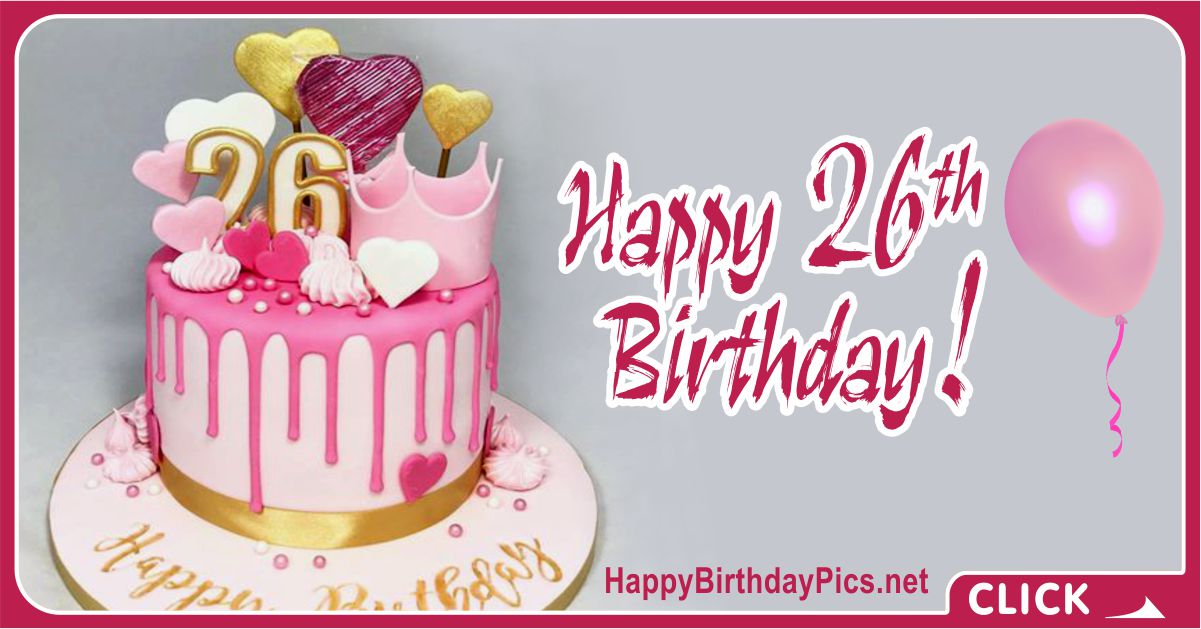 26th Birthday
(Browse the website for similar cards.) — Happy birthday! I sent you this "Happy 26th Birthday with Pink Theme" card to wish a very great birthday to you. I wish all your wishes come true. I congratulate your twenty-sixth birthday with this "Happy 26th Birthday with Pink Theme" birthday card.
Description of the "26th Birthday" Card
You can choose to send this card to women because it really contains plenty of pinks. It is very suitable for a 26-year-old girl or a young woman. The most striking thing on the card is, of course, the pink cake. Pink cream was poured on top of a light pink cake close to white. The cake rests on a light pink tray. The cake is decorated with side faces, flowing pink cream and pink hearts. There are many ornamental elements on top of the cake. Heart-shaped lollipops, white candies, a pink crown, white and pink beads, and a number made of gold: 26. On the other side of the card, there is only one pink balloon. The background color of the card is gray and the message of the card is also pink.
For More
«Pink is a pale red color that is named after a flower of the same name. It was first used as a color name in the late 17th century. According to surveys in Europe and the United States, pink is the color most often associated with charm, politeness, sensitivity, tenderness, sweetness, childhood, femininity and the romantic. A combination of pink and white is associated with chastity and innocence, whereas a combination of pink and black links to eroticism and seduction. (Wikipedia)»
26th Birthday:
For more Age-Specific birthday cards like this "Happy 26th Birthday with Pink Theme" Card, you can go to Happy Birthday website and find more beautiful birthday cards to share on Facebook. You'll love them. Surely, you can send this "Happy 26th Birthday with Pink Theme" e-card, to your friends who have a birthday.