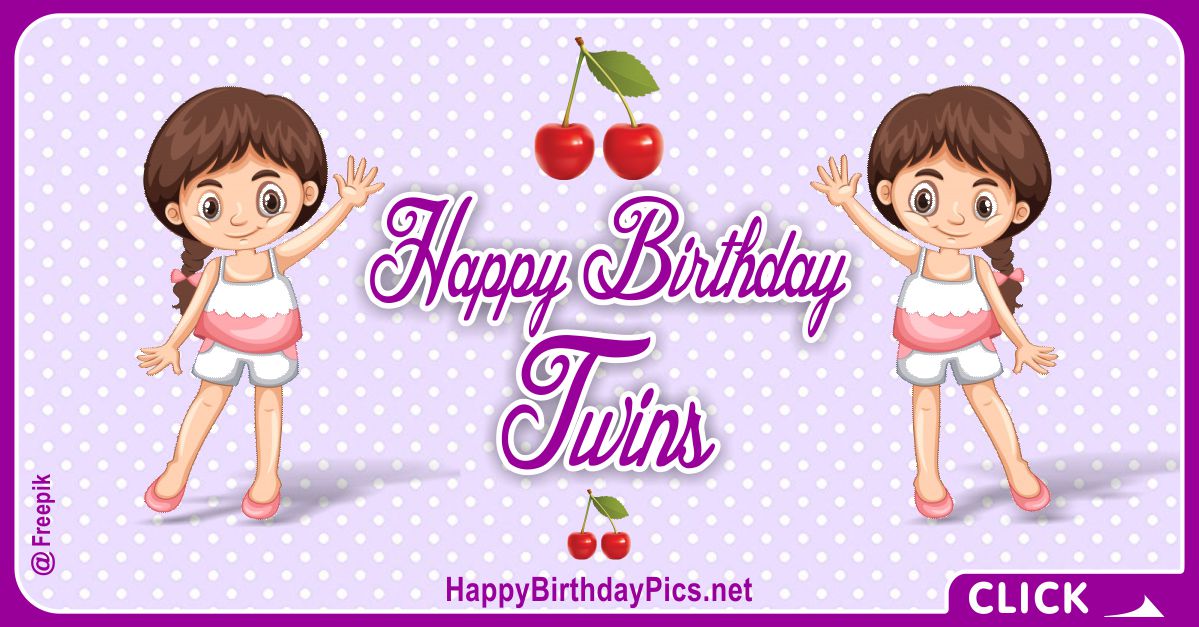 Happy Birthday Twin Sisters Message
Happy Birthday to the most wonderful twin sisters in the world! Today is a day of double celebration as we commemorate the birth of two extraordinary individuals who happen to share the same special day. This "Happy Birthday Twin Sisters" e-card is a small token of my affection, conveying my heartfelt wishes for an absolutely fantastic birthday to you both.
As the years have passed, I've had the privilege of witnessing your incredible bond grow stronger with each passing day. You two are not just siblings; you are companions, allies, and partners in crime. Your shared experiences, secret languages, and uncanny ability to know what the other is thinking are what make your twinship truly magical.
In sending this "Happy Birthday Twin Sisters" birthday e-card, I hope to encapsulate the depth of my appreciation for the remarkable individuals you've become. May your day be filled with double the joy, laughter, and love that you bring into the lives of those around you. Here's to celebrating another year of your unique journey together!
"Happy Birthday Twin Sisters" e-Card
Now, let's take a moment to appreciate the delightful "Happy Birthday Twin Sisters" e-card itself. This e-card is a visual representation of your sisterly connection. The purple background, adorned with delicate white dots, symbolizes the harmony and unity that you both share. Just like the dots on the card, your lives have intertwined beautifully.
The centerpiece of this e-card features two adorable little girls, unmistakably twin sisters, waving at us with identical smiles. Their synchronized gesture is a testament to the bond you two share, always in sync and perfectly attuned to each other's rhythms.
The cursive text that elegantly spells out "Happy Birthday Twin Sisters" adds a touch of sophistication to the card, mirroring the grace with which you both navigate life. The color theme seamlessly blends with the overall aesthetic, creating a pleasing visual experience for the recipients.
But what truly sets this e-card apart are the twin cherries adorning it. These cherries hold a special significance as icons of twin siblings. Just like the cherries, you two are inseparable, intertwined by an unbreakable connection. Yet, just like the cherries themselves, you are individually sweet and unique, each possessing your own distinct personality and qualities.
So, as you celebrate another year of life, remember that you are like those twin cherries – connected in a way that's incomparable, yet individually remarkable. Your journey as twin sisters is a testament to the power of sisterhood, and I feel privileged to be a witness to your extraordinary bond.
"Happy Birthday to You!
May your birthday be a reflection of the love and joy you bring into the world, multiplied by two. Happy Birthday once again, dear twin sisters! Wishing you endless happiness, cherished memories, and a lifetime of shared adventures. Enjoy your special day to the fullest! 🎉🎂👯‍♀️