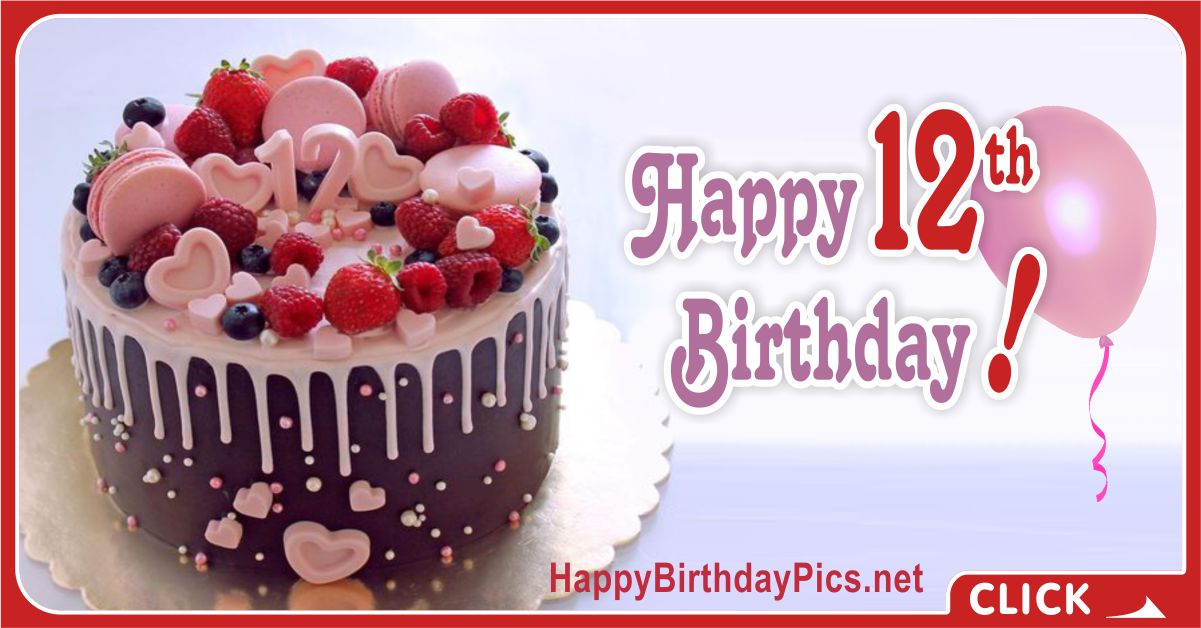 Happy 12th Birthday
(Browse the website for other similar ones.) — Hey, happy birthday! One more year and you will be a real teenager. I sent this Happy 12th Birthday card because I want to wish you a happy birthday. You will turn your twelfth birthday, today. With this pinky cake with blue cookies, I congratulate you on your twelfth birthday. My birthday wishes to you, all your wishes come true happily, during your life.
Description of the "12th Birthday Card with Blue Cake"
Surely, the most striking thing on this e-card is the chocolate cake, on the left side. There are many strawberries, mountain strawberries, blueberries, macarons, and candies in heart shape. There is also number 12 in the middle of the cake made with candy. All macarons and candies are in pink color, including number 12. On the right side of the card, there is a pink balloon and the birthday message of the card: "Happy 12th Birthday!". The background color of the card is lilac and the card has a red frame, also.
For More
«Turning 12 is a big deal, 12 years has a lot of advantages and a lot of things just waiting for you. Turning older is a blessing most people get to enjoy and as a person close to a birthday boy or girl, it is your duty to make the moment unforgettable. Words are written are always better than words said since one can read the words over and over again and that can definitely make someone feel happy and lucky to have someone as caring close to them. Here are some birthday messages you can send to that special 12 years old to ensure their birthday is unforgettable. (cardswishes.com)»
Also, for more Age-Specific birthday cards, you can go to HappyBirthdayPics.net and find more beautiful birthday cards to share on Facebook. Surely, you can share this "Happy 12th Birthday" card, with your friends who have a birthday.