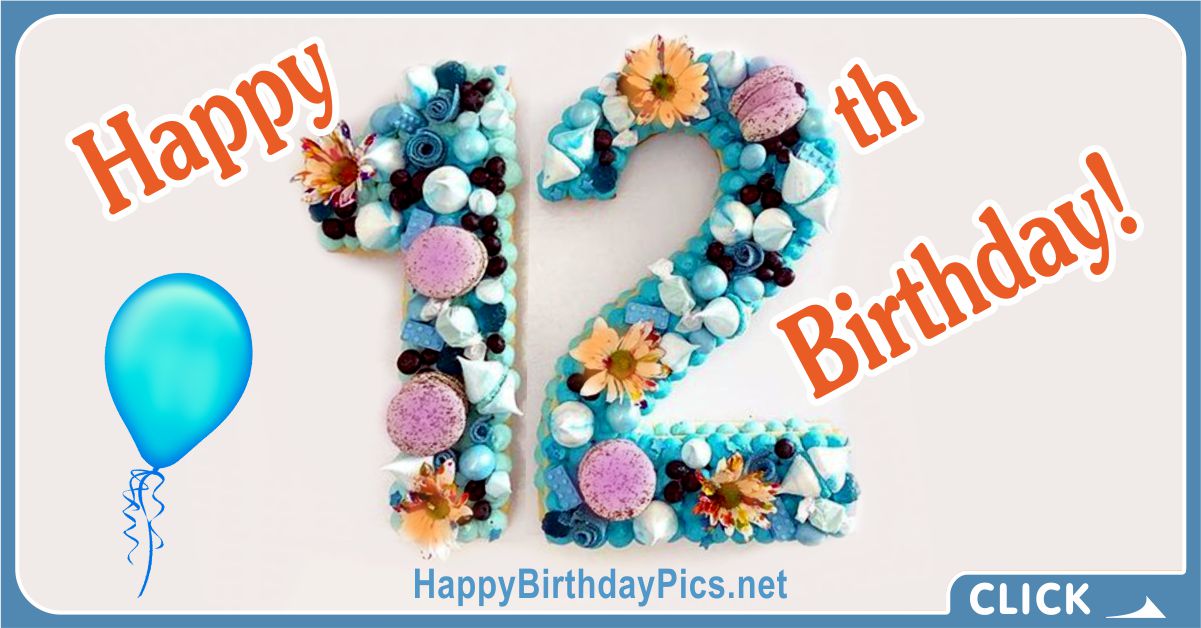 12th Birthday Card
(Navigate the website for other similar ones.) — I sent this 12th Birthday Card with Blue Cake because I wish you a happy birthday. Today, you will turn your twelfth birthday. With this blue cake with blue cookies, I congratulate you on your twelfth birthday. My birthday wishes to you, all your wishes come true, during your life.
Description of the "12th Birthday Card with Blue Cake"
The most striking element on this blue e-card is number 12 in the middle of the card. The blue cake is in the shape of numbers, 1 and 2 (12). The cake has blue cream and blue cookies on it. Among these cookies, also there are four lavender macarons. On the left side of the card, there is a blue balloon. The birthday message of the card: "Happy 12th Birthday!". The background color of the card is white and the card has a blue frame, also.
For More
«Writing in a 12-year-old's birthday card can feel as awkward as eating lunch by yourself in the school cafeteria. Put yourself in the mindset of a pre-teen to come up with the best words. Whether you write something funny or inspirational is up to you. Below are some examples of Birthday messages for 12-year-olds. Don't stress out too much. Remember that you're writing on a birthday card, not trying to create the next bestselling novel. Even though 12-year-olds probably like funny birthday wishes, you also have an opportunity to inspire with a meaningful or religiously themed birthday message as well. (holidappy.com)»
Also, for more Age-Specific birthday cards, you can go to HappyBirthdayPics.net and find more beautiful birthday cards to share on Facebook. Surely, you can share this "12th Birthday Card with Blue Cake" with your friends who have a birthday.