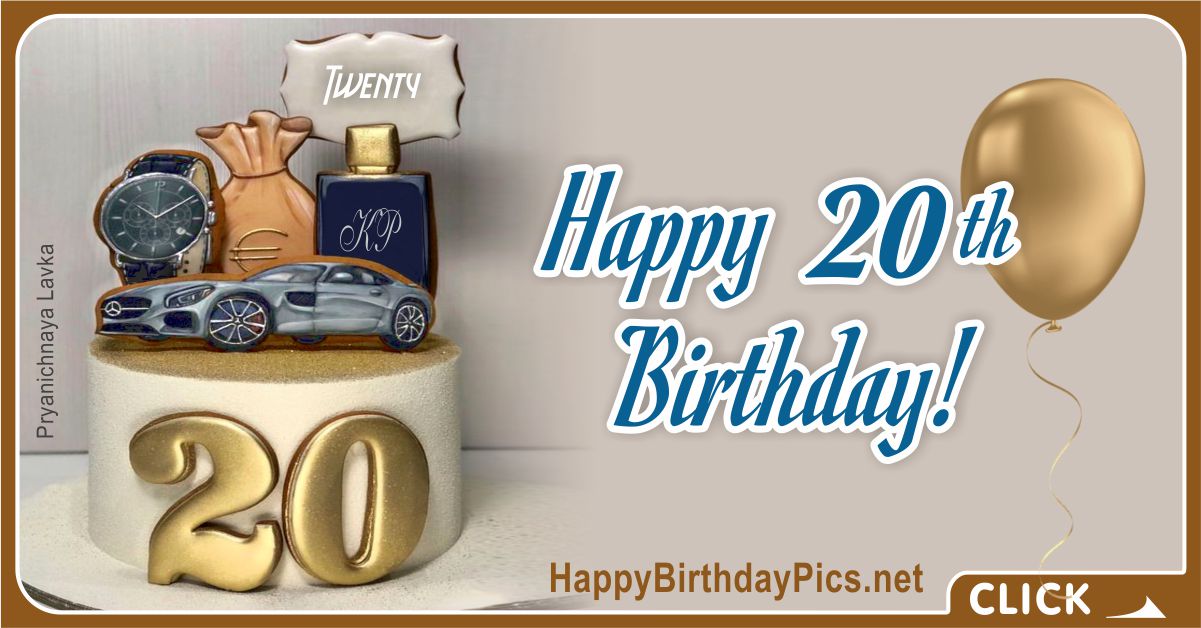 20th Birthday Gold Theme Party
(Browse the website for other similar ones.) — Happy birthday! I sent you this 20th Birthday Gold Theme Party card to wish a happy birthday to you. You like the gold color, so I picked a gold-themed card. This is your special day because you are turning your twentieth birthday today and you're not a teenager anymore. I congratulate your twentieth birthday with this gold themed party birthday card. I wish all your golden wishes come true, during your life.
Description of the "Gold Theme Party" Card
On this card, the thing attracting attention first is the number "20" on a white-gold color cake. The number 20 consist of gold figures. Looks like gold powder sprinkled on top of the cake. Also, on top of the cake is a car image, a perfume bottle, a gold bag, and a sports car. The two big gold color cookies made in the form of numbers 2 and 0 (20), takes place in the front of the cake. On the right side, a gold balloon takes place, and the birthday message is: "Happy 20th Birthday!". The background color of the card is white gold, and the card has a brown frame.
For More
«In most legal systems, one becomes designated as an adult on a particular birthday (usually between 12 and 21), and reaching age-specific milestones confers particular rights and responsibilities. At certain ages, one may become eligible to leave full-time education, become subject to military conscription or enlist in the military, to consent to sexual intercourse. Or to marry, to marry without parental consent, to vote, to run for elected office, to legally purchase alcohol and tobacco products, to purchase lottery tickets, or to obtain a driver's license. (Wikipedia)»
For more Age-Specific birthday cards like this "20th Birthday Gold Theme Party" Card, you can go to Happy Birthday website and find more beautiful birthday cards to share on Facebook. You'll love them. Surely, you can share this "20th Birthday Gold Theme Party Card", with your friends who have a birthday.