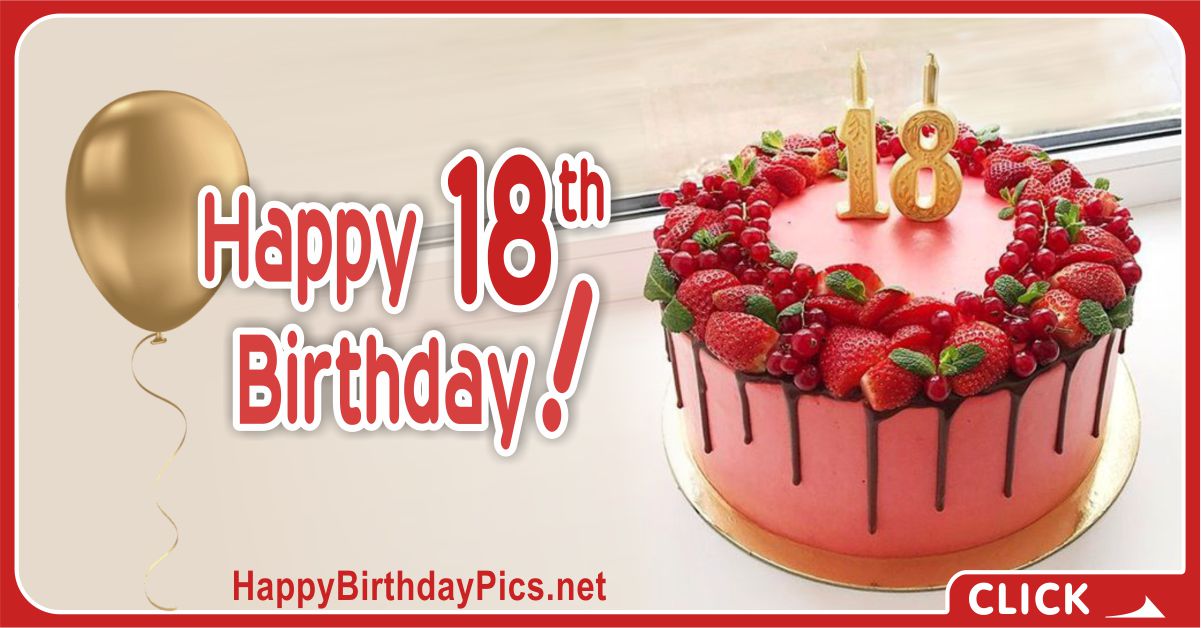 18th Birthday Party Strawberry
(Browse the website for other similar ones.) — Happy birthday to you, dear teenager. I sent this 18th Birthday Party Strawberry Feast card to you to wish a very wonderful birthday. This is your day because finally, you are turning your eighteenth birthday today. With this pink-red birthday card, I congratulate your great eighteenth birthday, and I wish all your happy wishes come true, during your life, dear teenager.
Description of the "18th Birthday Party Strawberry Feast" Card
Of course, the most remarkable element of this card is the big cake, on the right side, on a golden platform. The cake has a red-pink color. There are many strawberries and redcurrant berries on it. The strawberries are really large amounts because the cake is quite large. Also, there are two gold numbers on the cake made in the form of 1 and 8 (18). On the left side of the card, there is a golden color balloon, and the birthday message of the card: "Happy 18th Birthday!". The background color of the card is light-beige, and the card has a maroon frame.
For More
«The garden strawberry is a widely grown hybrid species of the genus Fragaria, collectively known as the strawberries, which are cultivated worldwide for their fruit. The fruit is widely appreciated for its characteristic aroma, bright red color, juicy texture, and sweetness. It is consumed in large quantities, either fresh or in such prepared foods as jam, juice, pies, ice cream, etc. Artificial strawberry flavorings and aromas are also widely used in products such as candy, soap, lip gloss, perfume, and many others. (Wikipedia)»
For more Age-Specific birthday cards like this "18th Birthday Party Strawberry Feast" Card, you can go to Happy Birthday website and find more beautiful birthday cards to share on Facebook. You'll love them. Surely, you can share this "18th Birthday Party Strawberry Feast Card", with your friends who have a birthday.