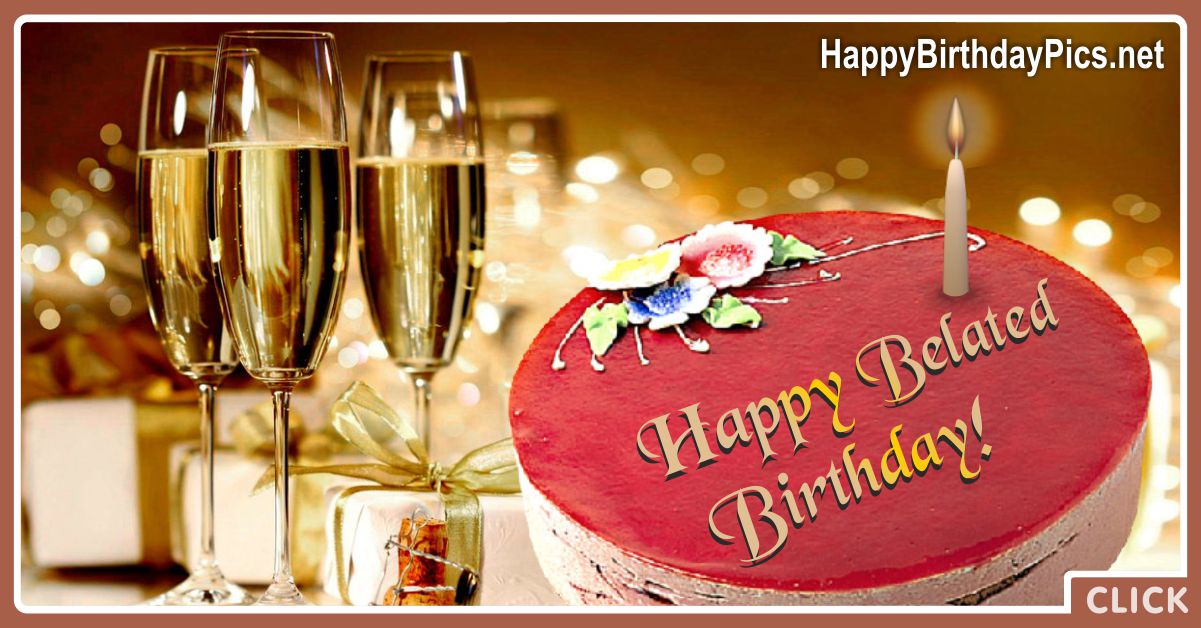 Happy Belated Birthday Cake
(Browse the website for other similar ones.) — Belated Birthday Greetings to you, with Happy Belated Birthday Cake and Champagne. When you look the same every year, how do I believe it's one year older? If you insist on your age, happy birthday, then. 🙂 Actually, yesterday, I've been thinking about you even this morning, the thoughts you've grown old have paralyzed me. Wishing you, happy aging! I didn't congratulate you yesterday, because one day is not enough to congratulate you. I congratulate you every day. Happy birthday. Of course, what I forgot yesterday was your special day, but you are a special person, every day. Happy belated birthday to you.
Even if I'm late for your birthday, I sent you this "Happy Belated Birthday Cake" card with champagne glasses to wish a very great year to you. This was your very special day, as you turned a new year. Even if it's late, I congratulate your birthday with this "Happy Belated Birthday Cake and Champagne" card.
Description of the "Happy Belated Birthday Cake" Card
It is difficult to decide which of the two elements on this card is more remarkable. On the left, there are three champagne glasses and the inside is full of champagne. On the right is a stylish birthday cake. The cake has a lovely design made of flowers and a lit candle. The topper text on the cake is written by golden letters. There are also various gift packages that appear among the champagne glasses. Stylish gift boxes tied with ribbons draw attention to the importance of birthday gifts. The background color of the card is gold, and the message of this card is: "Belated Happy Birthday!"
For More
For more belated birthday cards like this "Happy Belated Birthday Cake and Champagne" Card, you can go to Happy Birthday website and find more beautiful birthday cards to share on Facebook. You'll love them. Surely, you can share this "Happy Belated Birthday Cake and Champagne" e-card, if you wish to congratulate a friend's birthday with a delay.