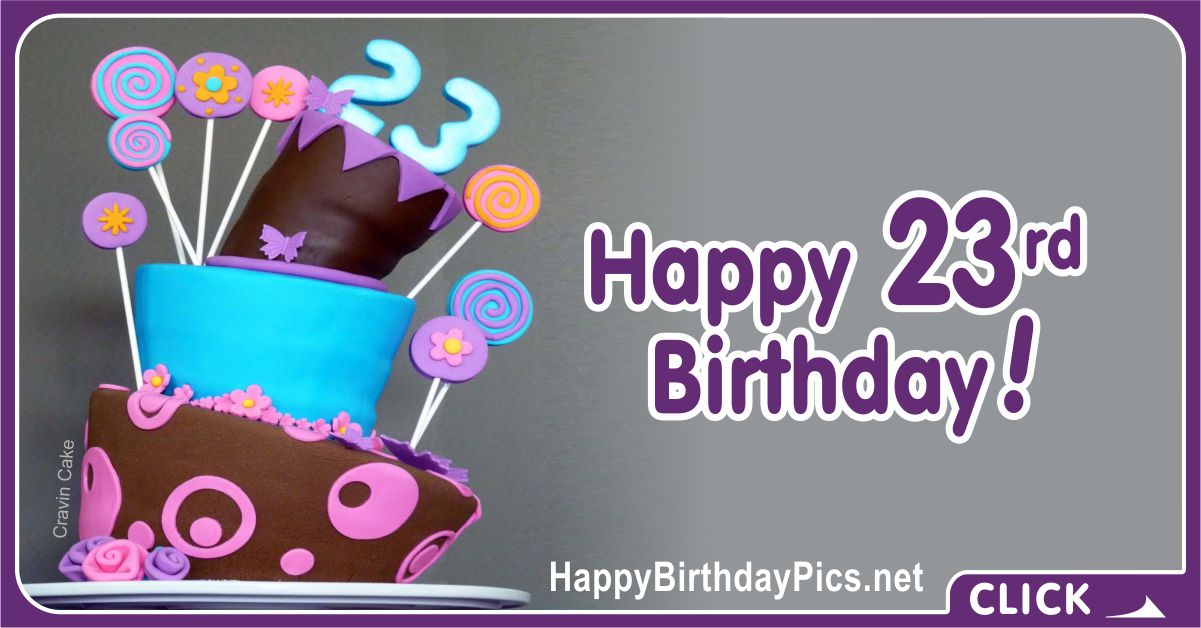 Happy 23rd Birthday
(Browse the website for similar ones.) — Happy birthday! I sent you this "Happy 23rd Birthday Lollipops" card to wish a very great birthday to you. I wish all your wishes come true. I congratulate your twenty-third birthday with this "Happy 23rd Birthday Lollipops" birthday card.
Description of the "23rd Birthday" Card
You can post this birthday card to both men and women. On the left side of this card is a three-layer birthday cake. The bottom layer is brown, the second layer is blue and the top layer is dark brown. On top of the cake is a three-dimensional number 23 with blue letters. A large number of lollipops placed on the first and second floors of the cake decorate the cake. They are blue, lilac, purple and orange lollipops.
For More
«A lollipop is a type of sugar candy usually consisting of hard candy mounted on a stick and intended for sucking or licking. Different informal terms are used in different places, including lolly, sucker, sticky-pop, etc. Lollipops are available in many flavors and shapes. Lollipops are available in a number of colors and flavors, particularly fruit flavors. With numerous companies producing lollipops, the candy now comes in dozens of flavors and many different shapes. (Wikipedia)»
23rd Birthday:
For more Age-Specific birthday cards like this "Happy twenty-third Birthday Lollipops" Card, you can go to Happy Birthday website and find more beautiful birthday cards to share on Facebook. You'll love them. Surely, you can share this "Happy 23rd Birthday Lollipops", with your friends who have a birthday.