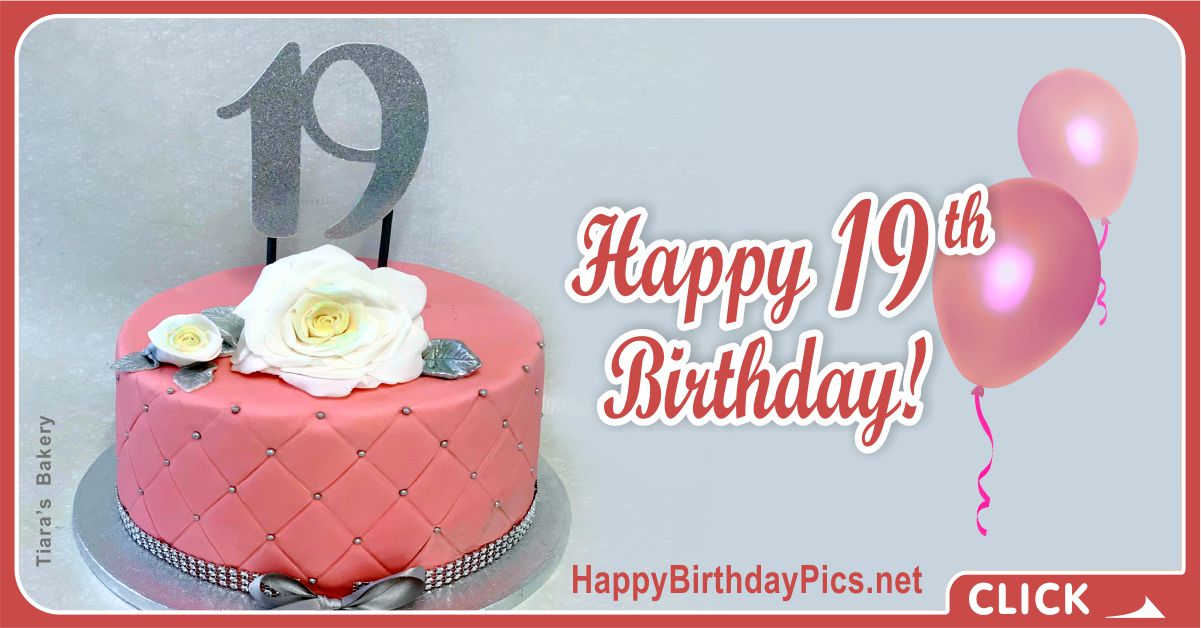 19th Birthday Silver Tone
(Browse the website for other similar ones.) — Happy birthday, dear 19-years-old teenager. I sent this 19th Birthday Silver Tone card to you to wish a silver birthday to you. This is your special day because you'll be turning your nineteenth birthday, today. With this silver-tone birthday card, I congratulate your nineteenth birthday, and I wish all your good wishes come true, during your life.
Description of the "19th Birthday Silver Tone" Card
On this card, the thing attracting attention first is the pink color cake, on the left side. It is a regular, stylish round cake, on a silver tray. It has two white roses on top of it. The roses have silver leaves. Also, a big silver number "19" takes place behind the roses. The sides of the cake have a diamond pattern and each corner of the diamonds have a silver bead. Besides, at the bottom of the cake, there's a silver belt adorned with diamonds. The two ends of this belt are tied with a silver ribbon. On the right side of the card, there are two pink balloons, and the birthday message of the card is in pink color: "Happy 19th Birthday!". The background color of the card is silver, and the card has a mauve frame.
For More
«Silver (color) or metallic gray is a color tone resembling gray that is a representation of the color of polished silver. The visual sensation usually associated with the metal silver is its metallic shine. This cannot be reproduced by a simple solid color, because the shiny effect is due to the material's brightness varying with the surface angle to the light source. (Wikipedia)»
For more Age-Specific birthday cards like this "19th Birthday Silver Tone Party" Card, you can go to Happy Birthday website and find more beautiful birthday cards to share on Facebook. You'll love them. Surely, you can share this "19th Birthday Silver Tone Card", with your friends who have a birthday.