Happy World Pecan Day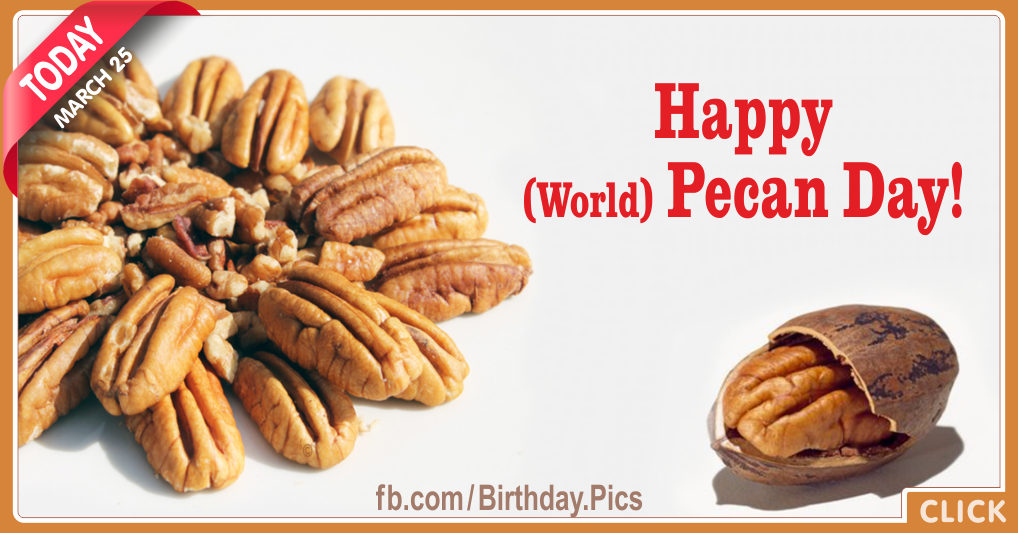 Happy World Pecan Day Card
Happy World Pecan Day Card March 25
– Happy World Pecan Day! Wishing you a delicious day, sending this Pecan Day card to you. May your special day become as salutary as pecans. I wish you a delicious day today, on 25th March as your Pecan Day. Also you can send this special card to a special one who likes to eat pecan. PecanDay is celebrated on March 25, always. This not "National-Pecan-Day". National Day is always on April 14.
About World Pecan Day
Pecan Day is a rather nutty day. Its a day to celebrate and enjoy popular, tasty pecans. Apparently, someone thought that it was such a great nut, that they created two days to celebrate Pecans. One in March 25, and the other in April 14. Maybe a little nutty, but true. What is the origin of "Pecan Day"? Our research did not find the creator, or the origin of this day. So, we could not resolve the reasoning for two Pecan Days. We did discover that April is National Pecan Month. So, it seems more logical for Pecan Day to be celebrated in April. Celebrate Pecan Day and National Pecan Day by cracking open and eating a few pecan nuts. Also, have some pecan pie. I am celebrating your World Pecans Day on this card.