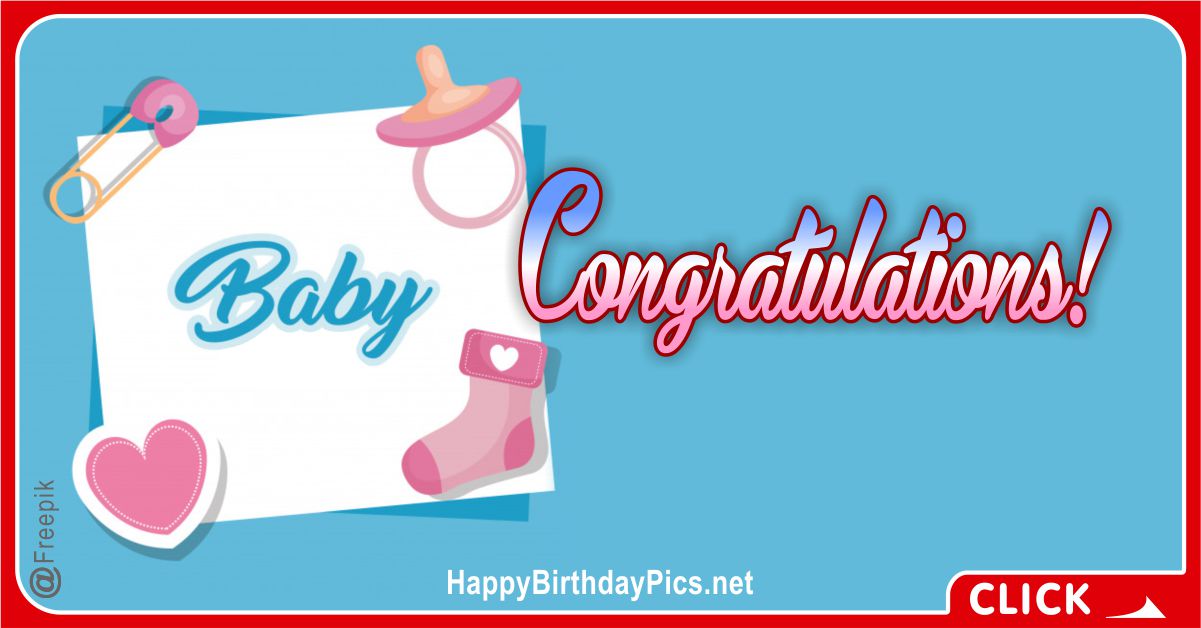 Baby Congratulations Card
I Congratulate you, with this "Baby Congratulations Card". – Congrats! – I post you this "Baby Congratulations" e-card for I think you deserve the best compliments, best gifts, the best travels. Every successful person has the right to have fun, travel, rest, get gifts, get awards, Baby Congrats flowers and "Baby stork Gifts".
Description of the "Baby Congratulations Card"
This is a beautiful new baby greeting card. The arrival of every baby in the world is a happy event worthy of congratulations. When you hear about the birth of a new baby in your neighborhood, remember to congratulate their parents. You would not only make those parents happier, but you would also share this happiness. Of course, you can do something for the baby as well. It is a good idea to buy various gifts for the baby. You can easily find baby gifts at baby shower supply stores. Some stores even sell these baby utensils in sets. Pacifiers, baby shoes, baby bibs, baby food containers, baby bottles, baby shoes, various baby clothes, and toys are included in these baby gift packages.
This baby greeting card design includes some of the baby items mentioned above. A safety pin, a pacifier, a baby sock … You first send this card to the baby's parents, and then visit with a gift, even if it is a small one.
This is a Baby Congratulations Card card, the background color of the card is orange-yellow, and the message of this card is: "Welcome Baby Congratulations".
For More
For more Congratulations cards like this "Baby Congratulations Card" card, you can go to Happy Birthday website and find beautiful greeting cards to share on Facebook. You'll love them. Surely, you can share this "Baby Congratulations Card" e-card, when you wish to congratulate a friend.