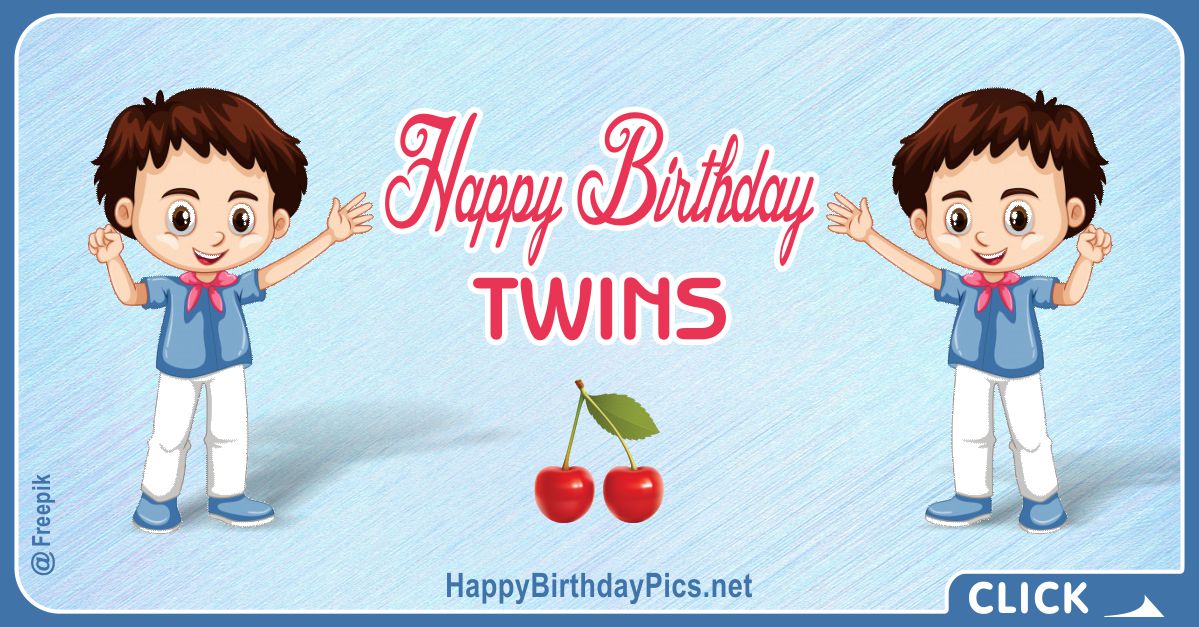 Happy Birthday Twin Brothers Message
Celebrating the Bond of Twinhood: Happy Birthday Twin Brothers! Today is a day of double joy, a day that honors the unique and inseparable bond between two special individuals. It's a day to send out wishes to two people who share more than just genes; they share a lifetime of experiences, secrets, and an unbreakable connection. Happy Birthday, dear twin brothers!
As you celebrate another year of life, may your hearts be filled with happiness, your spirits be lifted high, and your dreams be ever closer to becoming a reality. This "Happy Birthday Twin Brothers" message serves as a reminder of the extraordinary journey you both have embarked upon, side by side, from the moment you first opened your eyes to the world together.
Whether you're sending this card to friends who are twins or celebrating your own birthday, it encapsulates the beauty of twinhood. It's a celebration of the incredible bond that you share, one that has grown stronger with each passing year.
"Happy Birthday Twin Brothers" e-Card
The "Happy Birthday Twin Brothers" e-card is a heartfelt expression of this unique bond. Designed with a predominantly blue color theme, it symbolizes the shared experiences and memories that color your lives. Against this backdrop, two adorable little boys take center stage, representing the very essence of twinhood. Their cheerful waves mirror the joy you bring to everyone who knows you.
Inscribed in the heart of the card are the words that convey your birthday wishes. These words are not just any birthday message; they are a tribute to the exceptional relationship you share. Twin cherries, nestled beneath the text, add a touch of symbolism to this heartfelt greeting. Twin cherries, universally recognized as a symbol of twin siblings, embody your connection. Just like those cherries that start their journey together, connected by a shared stem, you two began your lives as companions and have continued to be each other's support and strength through thick and thin.
This "Happy Birthday Twin Brothers" e-card is not just for any pair of twins; it's a tribute to those who understand the true meaning of shared laughter, tears, and an unspoken understanding that transcends words. It's for those who know that being a twin is not just a coincidence but a unique gift that enriches their lives every day.
Happy Birthday
So, dear twin brothers, as you blow out your birthday candles this year, remember that this "Happy Birthday Twin Brothers" message and e-card are not just tokens of good wishes; they are a tribute to the extraordinary journey of life you've undertaken together. May your birthday be as exceptional as the bond you share, filled with love, laughter, and the promise of many more years of twinning adventures ahead. Happy Birthday!
You could have come here with these search terms: Birthday gift ideas, https://happybirthdaypics net/card/thematic/twins-triplets/happy-birthday-twin-brothers/ (2), free birthday cards, birthday
videos
.