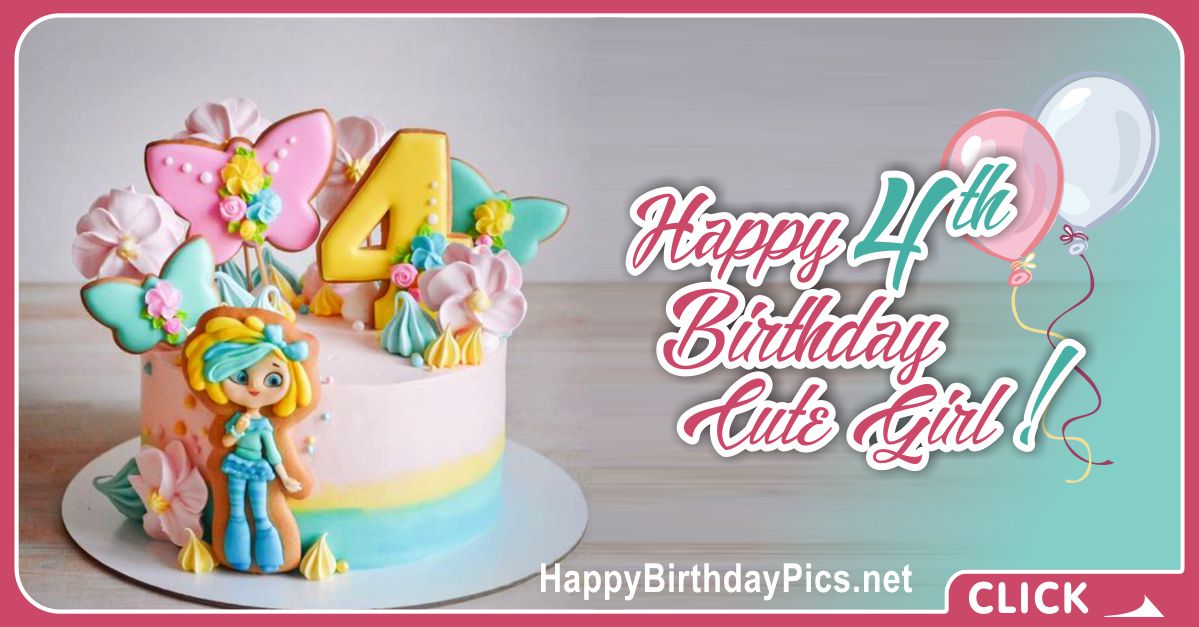 Cute Girl Fourth Birthday
– By sending this Cute Girl Fourth Birthday Card, I wish a happy birthday, to a cute-Baby-Girl. A cute-Baby-Girl is turning his fourth birthday, today. On the picture on this girly birthday card, I congratulate this cute baby's fourth birthday. I wish all her wishes come true, during her sweet life.
Description of the "Cute Girl Fourth Birthday" Card
Firstly, a pink cake appears on the left side of this birthday card. In front of the cake, there is a little girl figure stands. At the top of the cake, many sugar-cookie shapes to decorate the cake. Green and pink butterflies, pink flowers, candies in drop shape… Also a big number "4" in yellow color. On the right side of the card, there are two balloons, one pink and one light blue. The background color of the card is gray-blue. The message of the card is: "Happy 4th Birthday Cute Girl!" This card has a violet frame, also.
For More
"A girly girl is a woman or a young lady/teenager who chooses to act in the traditional feminine way. It does not mean being skanky or trashy because that's just tacky. Being girly does not mean loving pink you could like blue or green it does not matter. Being girly is embracing your femininity in a very optimistic, sophisticated way. (UrbanDictionary)"
For more Age-Specific birthday cards, you can go to HappyBirthdayPics.net and find more beautiful birthday cards to share on Facebook. You can share this "Cute Girl Fourth Birthday Card" with your friends who have a birthday.