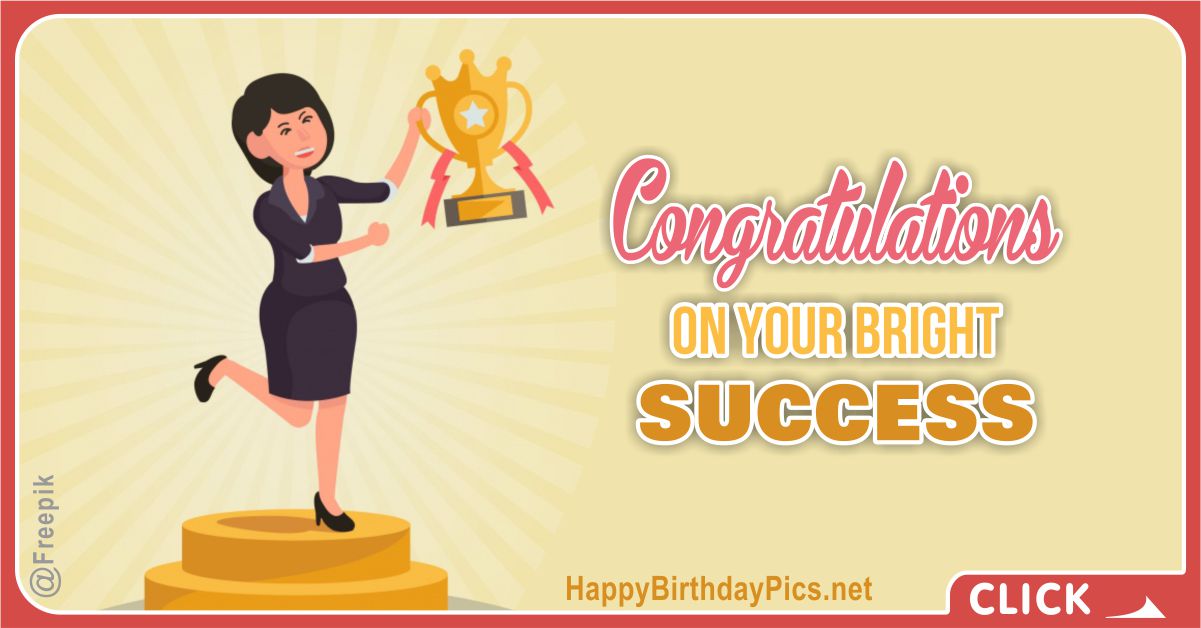 Women Power Congratulations E-Card
Empowering Women: Celebrating Success and Self-Care… In a world that's constantly evolving, women are taking charge, breaking barriers, and achieving incredible milestones. It's only fitting to send out heartfelt congratulations to those remarkable women who exemplify sheer determination and strength. As we acknowledge their successes, we also recognize the importance of celebrating not just their achievements but also their well-being.
The "Women Power Congratulations" e-card is a symbol of triumph, a virtual pat on the back, and a reminder that every successful woman deserves the very best that life has to offer. It's a salute to those who've shattered glass ceilings, climbed mountains, and forged their own paths, achieving greatness against all odds.
When we send this e-card, we're not merely saying "congrats"; we're saying that we admire your unwavering spirit, your dedication, and your relentless pursuit of excellence. We're acknowledging that your accomplishments are monumental and deserving of praise.
Moreover, we believe that every successful woman should indulge in the finer things in life. She should revel in the joy of receiving gifts that acknowledge her hard work and dedication. She should embark on journeys that enrich her soul and broaden her horizons. She should be honored with awards that recognize her brilliance. She should take time to rest and rejuvenate, for she has earned it. And, of course, she should have the opportunity for career growth and promotion because her talents should never go unrecognized.
In the quest for success, it's vital to remember the importance of self-care. Burnout can affect anyone, regardless of gender. That's why we celebrate not only your achievements but also your well-being. The "Women Power Congratulations" e-card is a reminder that it's not just about reaching the top; it's about maintaining a balance in life.
So, here's to you, the embodiment of strength and resilience. May your journey be filled with endless accomplishments, incredible adventures, and moments of self-care and relaxation. Your success is not just a personal triumph but a testament to the enduring power of women everywhere. Congratulations, and may your star continue to shine brightly in this ever-evolving world.
Description of the "Women Power" Card
Since women are known to face many challenges in society, a woman's success should be more important. When a woman among your friends does a successful job, send this card to her immediately. This success can be in business, school or sports. You can congratulate all kinds of women's success and "women's power" with this card. On this greeting card, you see a picture representing the concept of a successful woman. Woman holding in her hand an award cup trophy. You can also send this greeting card to successful women of all ages. The important thing is whether she is a girl or a woman and she is successful.
This is a Women Power success e-card, the background color of the card is light gray and light blue, and congratulatory message of the card is: "Congratulations on your bright success".
For More
For more Congratulations cards like this "Women's Power Congratulations", you can go to Happy Birthday website and find beautiful greeting cards to share on Facebook. You'll love them. Surely, you can share this "Women Power Congratulations" card, when you wish to congratulate a female friend.