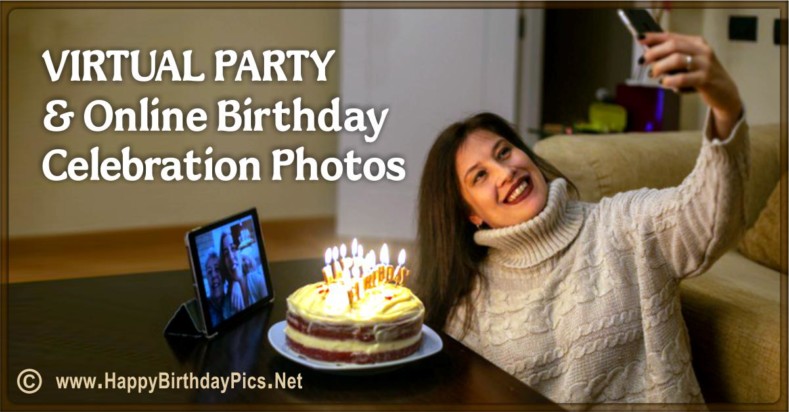 Virtual Party and Online Birthday Celebration
Embracing Virtual Parties: Celebrating Birthdays Online… In a world where distances often separate us from our loved ones and unforeseen circumstances force us to maintain physical distance, the importance of celebrating birthdays remains undiminished. Birthday parties are not just occasions to commemorate another year of life; they are moments that bring us closer, foster emotional connections, and create cherished memories. However, when gathering in person is impossible or unsafe, the digital age has provided us with a lifeline – the virtual birthday party.
Virtual birthday parties have emerged as a creative and heartfelt way to celebrate amidst the challenges of our modern world. Thanks to the incredible advances in technology, we can now bridge geographical gaps and create memorable experiences from the comfort of our homes. The essence of togetherness is not lost; it merely takes on a digital form.
Organizing a virtual birthday party is easier than you might think. With a plethora of online tools and platforms at our disposal, anyone can become a virtual party host. Additionally, specialized virtual party hosting companies have sprung up, ready to take the reins and make your celebration exceptional. They offer a wealth of innovative online birthday celebration ideas, ensuring that your virtual party is a resounding success.
Virtual Birthday Party Ideas
One delightful aspect of virtual birthday parties is the ability to customize and personalize the celebration. You can choose from a myriad of virtual backgrounds, themes, and decorations, transforming your digital space into a festive wonderland. Sharing heartfelt birthday wishes is also made easier with the inclusion of virtual greeting cards, which can be sent electronically. These cards are not only visually appealing but also provide a tangible connection to the sender's sentiments.
In the virtual realm, creativity knows no bounds. You can host themed costume parties, interactive games, or even virtual tours of significant places that hold meaning for the birthday person. Virtual cake-cutting ceremonies have become an online sensation, allowing everyone to partake in the joyous tradition, albeit from different locations. The shared laughter, heartfelt messages, and collective singing of the birthday song transcend the limitations of distance.
While virtual birthday parties cannot replace the warmth of physical gatherings, they have shown us that love and celebration can adapt to any circumstance. They are a testament to human resilience and our unwavering desire to connect, even when the world keeps us apart. So, the next time you find yourself separated from loved ones on a special day, don't despair – embrace the virtual party and create lasting memories that span the digital divide.
It is also a good idea to use the following remote birthday celebration images to congratulate birthdays celebrated in this style. Choose a picture you like and send it to the person whose birthday you wish to celebrate remotely.