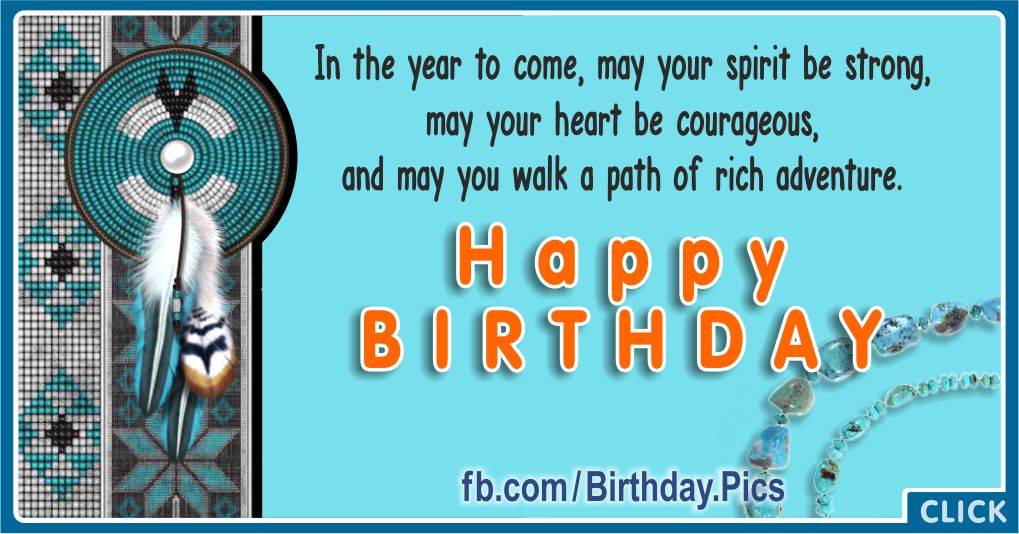 Bead Knitting
– This Native American Bead Knitting card is for you. It's your birthday, so it's the day which you'll be given good wishes. But I pray for you every day with my best wishes. I wish you were happy every day, always be cheerful with health. That's why I'm sending you this card. I know that you love the blue color that is the color of happiness, peace, and wisdom in the Native American culture. Therefore, I especially paid attention to choose a turquoise blue card, in particular. Turquoise and turquoise charms bring happiness and luck. I wish you have a colorful and cheerful birthday celebrated with laughter. Happy Birthday!
Description of the "Native American Bead Knitting" Card
The most prominent part of this blue card is undoubtedly the beaded ornament on the left side. These ornamental decorations contain traditional and authentic Native American motifs. Also, these ornaments, which are made with beads, contain black, white and turquoise colors. This section is arranged as a headband's design. It has also three feathers. In the lower right corner of the card, the jewels made with turquoise stones. Blue turquoise stones arranged in two rows may be a section of a necklace or bracelet. The greeting message of the Native American Bead Knitting card contains the following words: "In the year to come, may your spirit be strong, may your heart be courageous, and may you walk a path of rich adventure. Happy Birthday!". This blue card takes place in the "Native American cards" category of the website.