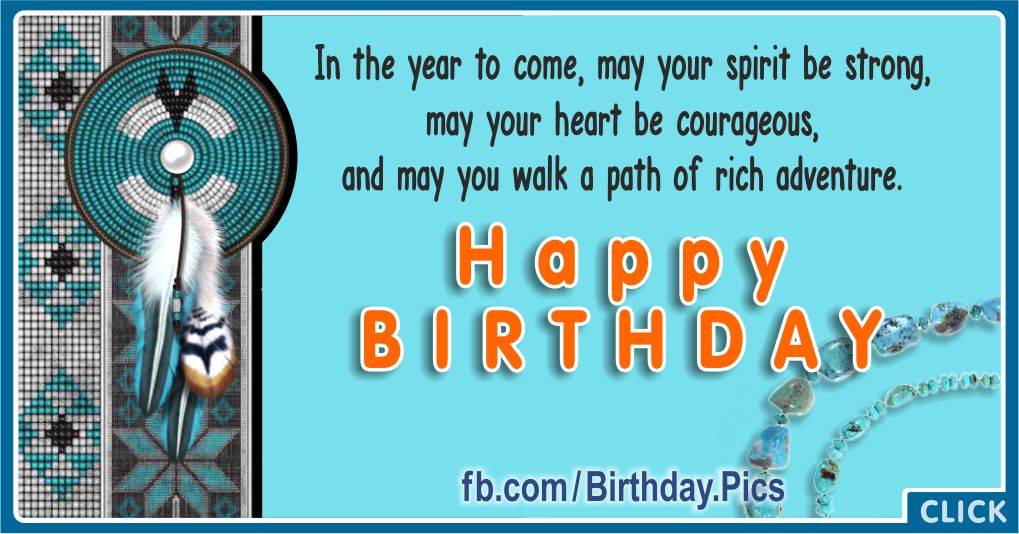 Native American Bead Knitting
Native American Bead Knitting: A Unique Birthday Celebration… On your special day, amidst the chorus of well-wishers, here's an extraordinary birthday e-card that resonates with the rich culture of Native American Bead Knitting. Beyond the customary celebrations, I extend my heartfelt wishes for your joy and well-being, not just today, but every day of your life.
The choice of this Native American Bead Knitting e-card is a tribute to your unique tastes and preferences. Knowing your affinity for the color blue, symbolizing happiness, peace, and wisdom in Native American culture, I carefully selected a turquoise blue backdrop for this e-card. Turquoise is not just a hue; it's a symbol of happiness and luck, two things we all wish for you abundantly.
Native American Bead Knitting e-Card
Now, let's delve into the intricate details of this e-card. The most striking feature is the beaded ornament adorning the left side. These decorative elements showcase traditional Native American motifs, each bead carefully chosen to craft a mesmerizing design. The combination of black, white, and turquoise beads forms a headband-like pattern, a nod to Native American fashion and heritage. Three feathers gracefully extend from this design, symbolizing the connection between earth and sky, reminding us to stay grounded while soaring toward our dreams.
In the lower right corner of the e-card, you'll notice jewels crafted from stunning turquoise stones. These stones, arranged in two rows, evoke the imagery of a necklace or bracelet, perhaps a symbol of unity and strength as you embark on another year of your life's journey.
The heartfelt message within the Native American Bead Knitting e-card encapsulates the spirit of the occasion. It reads, "In the year to come, may your spirit be strong, may your heart be courageous, and may you walk a path of rich adventure. Happy Birthday!" These words resonate with the Native American belief in the interconnectedness of all things, encouraging you to embrace your inner strength and embark on new adventures with courage and conviction.
This unique e-card finds its place within the "Native American cards" category of the website, celebrating the profound cultural heritage of indigenous peoples. It's a testament to the enduring beauty of Native American craftsmanship and the timeless wisdom embedded in their traditions.
Happy Birthday!
As you celebrate this milestone in your life, may the turquoise blue of this e-card infuse your day with happiness and wisdom. May the Native American Bead Knitting motifs inspire you to honor your roots, stay grounded in your journey, and reach for the sky. On your birthday and every day, may your spirit remain strong, your heart courageous, and your path filled with rich adventure.
Happy Birthday!
You could have come here with these search terms: Birthday
gift
ideas, https://happybirthdaypics net/card/thematic/native-american/native-american-bead-knitting/ (1), free birthday cards, birthday
videos
.