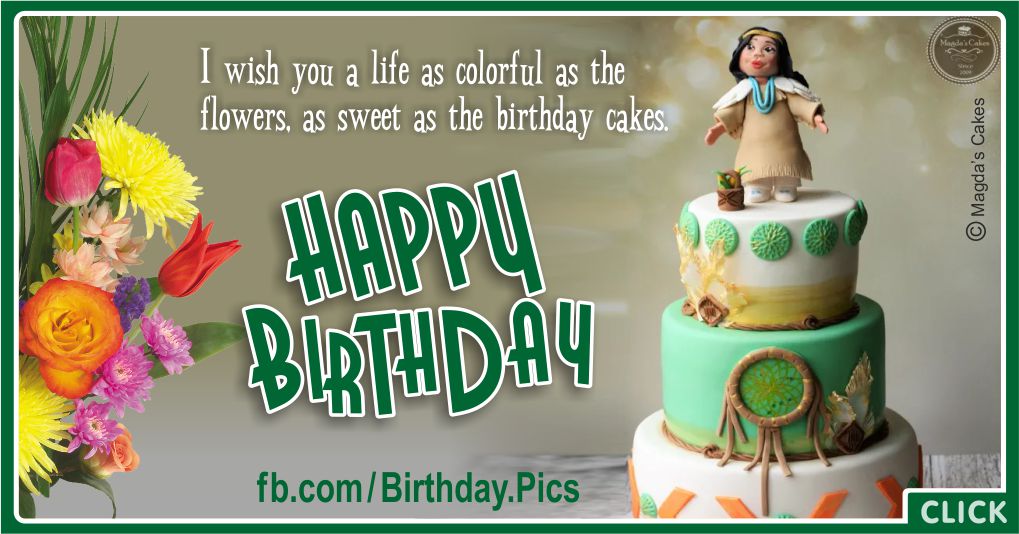 Birthday Flowers
– I am sending you my best birthday wishes with that Birthday Flowers and Native American Cake – Native Style Birthday card. I wish all the good and happy things for you, for now, and for your future. May the Great Spirit will always provide happiness to you and your family. I hope your new age will be blessed by our Great Spirit. You spread happiness to the people around you, and I wish that happiness will find you now.
Description of the "Birthday Flowers" Card
On this birthday card, the first thing that strikes attention is definitely the woman on the cake. A sweet Native American female figure made of sugar stands on the cake. He has traditional Indian costumes and jewelry. Especially her turquoise necklace is remarkable. She stands on a three-story birthday cake. At the same time, the cake also carries Native American motifs. In fact, there's even a simple dreamcatcher on it. The cake is white-green and has green-orange decorations. Colorful flowers are on the left side of the card. Yellow, red, lilac, orange birthday flowers … The greeting message on the card is like this: "I wish you a life as colorful as the flowers, as sweet as the birthday cakes. Happy Birthday". The background color of the card is gray-green, and it also has a green frame.