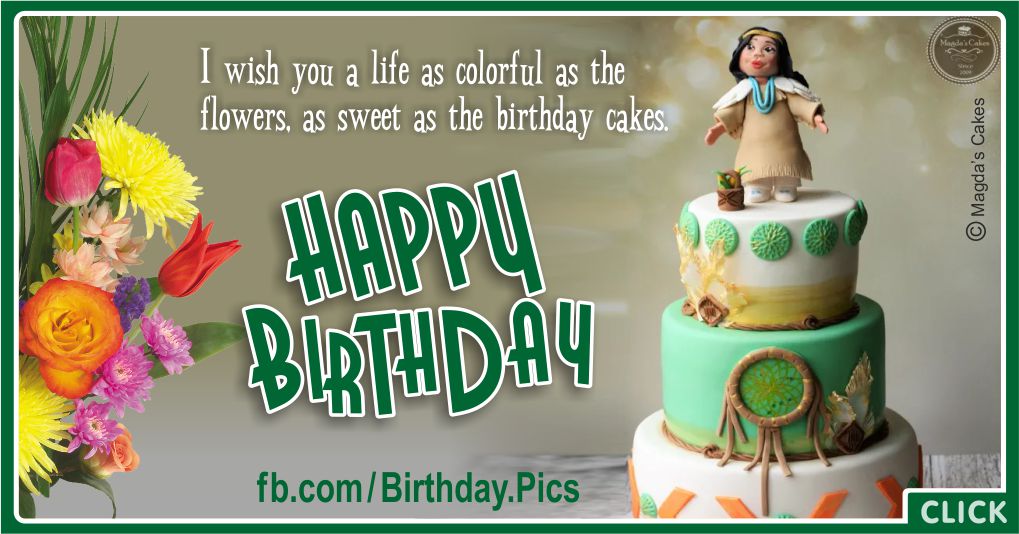 Happy Birthday with Birthday Flowers
Celebrating Life's Beauty with Birthday Flowers… Birthdays mark the passage of time and provide an opportunity to celebrate life's beauty and blessings. As you blow out the candles on your cake, surrounded by loved ones, I send you warm wishes and happiness through this heartfelt message, accompanied by a beautiful e-card adorned with Birthday Flowers and Native American symbolism.
Embracing Native American Traditions
In our fast-paced world, it's essential to take a moment to appreciate the wisdom of Native American traditions. This e-card pays tribute to their rich culture, offering a glimpse into their artistic expressions and deep connection to nature.
At the center of the e-card is a striking Native American woman crafted from sugar, proudly wearing traditional attire and exquisite jewelry. Her turquoise necklace, a symbol of protection and spiritual well-being, catches the eye and embodies the essence of Native American heritage.
The Symbolism of the Birthday Cake
Beneath the Native American figure lies a three-tiered birthday cake, a universal symbol of celebration. However, this cake is anything but ordinary. It's a canvas of Native American motifs, showcasing the fusion of cultures and the beauty of diversity.
Notice the dreamcatcher delicately placed on the cake—a powerful emblem of protection in Native American culture. It reminds us to sift through our dreams, letting the negativity pass through and retaining only the positivity that adds to our lives.
A Burst of Color and Joy
To the left of the e-card, a burst of vibrant flowers takes center stage. Yellow, red, lilac, and orange blooms represent the kaleidoscope of emotions and experiences that life offers. Each petal carries a wish for you—a life as colorful as these flowers and as sweet as the birthday cake itself.
A Message of Heartfelt Wishes
Embedded within this beautiful e-card is a message that resonates with the imagery. "I wish you a life as colorful as the flowers, as sweet as the birthday cakes. Happy Birthday." It's a wish for your days to be filled with the vibrancy of nature's palette and the sweetness of cherished moments.
A Subtle Earthy Palette
The e-card's background color, a gentle gray-green, represents the grounding energy of the Earth. It reminds us to stay connected to our roots and to appreciate the beauty of the natural world around us. The green frame encircling the message is a reminder of life's continuous cycle and growth.
The Power of Native Spirituality
As we celebrate your birthday, we invoke the wisdom of Native American spirituality. We hope that the Great Spirit, revered by indigenous cultures, will continue to bless your life with happiness and abundance. May you always find harmony in the world around you and within yourself.
A Celebration of You
In closing, this e-card is not just a token of celebration; it's a testament to your uniqueness and the wonderful blend of cultures and experiences that make you who you are. You bring happiness to those around you, and as you blow out the candles, may the warmth of your heart's desires become reality.
So, on this special day, as you receive birthday wishes and admire this beautiful e-card, take a moment to reflect on the beauty of life, the richness of traditions, and the love that surrounds you. Happy Birthday! May your journey be as remarkable as the Native American culture that inspires this card, and may your spirit always shine brightly, like the turquoise necklace adorning the Native American figure, bringing protection, luck, and happiness to your life.