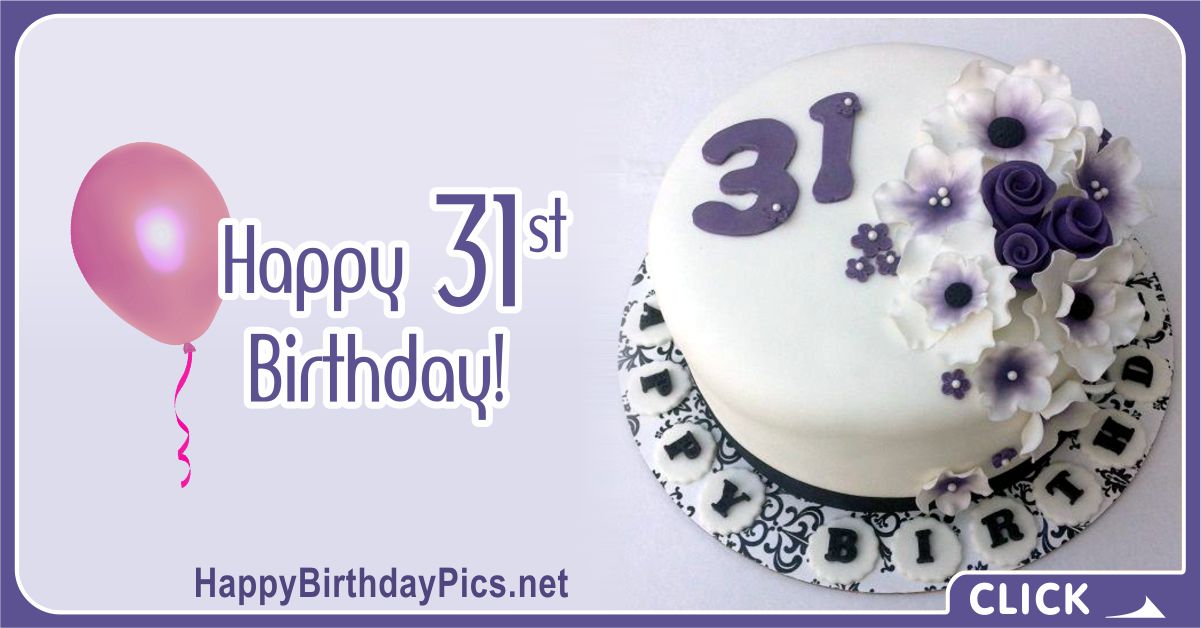 Happy 31st Birthday
(Browse the website for similar cards.) — Happy 31st birthday! I sent you this "Happy thirty-first Birthday with Pearls in Flowers" card to wish a very great 31st birthday to you. I wish you many happy returns. I congratulate your thirty-first birthday with this "Happy 31st Birthday with Pearls in Flowers" birthday card.
Description of the "Happy 31st Birthday" Card
This card is made for a 31-years-old person. The card's design is special for this beautiful age. We see purple and white around the card. There is a white cake showed on the card that has many elegant white and purple flowers on it. There are multiple types of flowers in the bundle. Next to these flowers, there is a large purple number 31 that shows the special age we celebrate here. The cake's riser is also specially designed. It is has a nice floral pattern decal on its plate. There are small candies around the cake on the riser. Each candy has a letter on it and they read happy birthday together. You can also see a purple balloon on the left with a pink ribbon under it. With all these and the elegant text in the front, the card celebrates your 31st birthday.
For More:
Happy 31st Birthday:
For more Age-Specific birthday cards like this "Happy 31st Birthday with Pearls in Flowers" Card, you can go to Happy Birthday website and find more beautiful birthday cards to share on Facebook. You can also find birthday cards for all ages on Facebook. Surely, you can send this "Happy 31st Birthday with Pearls in Flowers" e-card, to your 31st years-old friends who have a birthday.