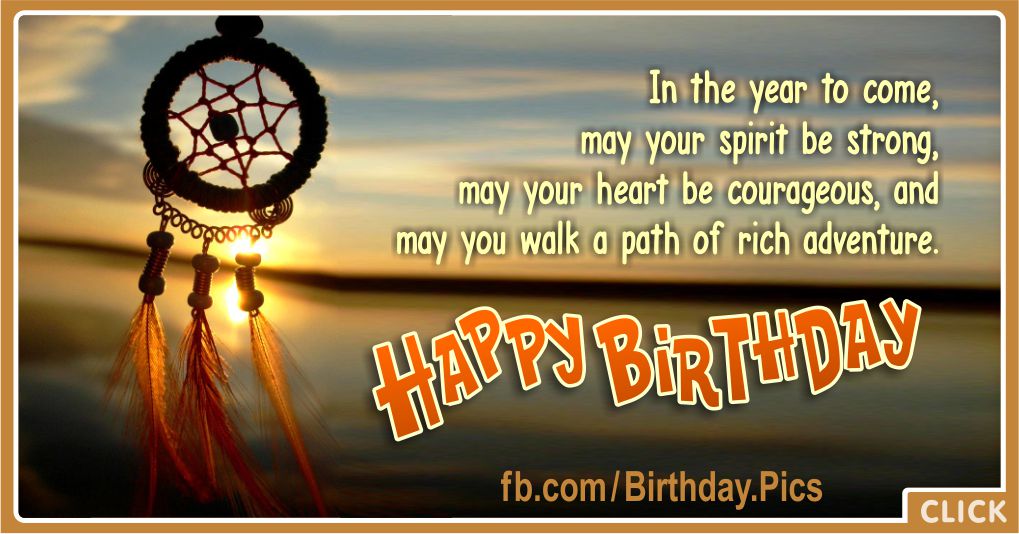 Morning Dream Catcher for Your Birthday
In a world where birthdays are a celebration of life and a reflection of the love and kindness one has shared, the "Morning Dream Catcher" stands as a symbol of hope, dreams, and Native American wisdom. As you embrace another year of your journey around the sun, let this heartfelt message and the imagery of the Dream Catcher guide you toward a day filled with joy, surrounded by genuine friends and loving family.
Wishing You a Fun-Filled Birthday
A'Hoo! I hope this Morning Dream Catcher will help you catch your dreams. It's not just a birthday card; it's a conduit for well-wishes and positive energy from Native American traditions. Today, as you mark the anniversary of your birth, I extend to you my warmest and most heartfelt birthday wishes. May your day be filled with laughter, love, and unforgettable moments.
You've touched the lives of many with your kindness and generosity, and on this special day, it's your turn to receive the love and affection you've so freely given. You are truly worthy of all the good wishes and blessings that come your way.
The Essence of the Morning Dream Catcher
At the heart of this Native American-inspired birthday card lies the Morning Dream Catcher. Against the canvas of a semi-bright morning, a serene sea view unfurls, invoking a sense of tranquility and possibility. The Dream Catcher, intricately woven with a delicate web, is believed to protect its owner from negative energies and nightmares, allowing only good dreams to pass through and gently slide down the feathers to reach the dreamer.
The greeting message on this card resonates deeply with the spirit of birthdays and new beginnings: "In the year to come, may your spirit be strong, may your heart be courageous, and may you walk a path of rich adventure." These words encapsulate the essence of your journey ahead. Just as each sunrise promises a new day, each birthday signifies a fresh start, a chance to set new goals, and a moment to embark on exciting adventures.
With the passage of time, you've grown stronger, wiser, and more courageous. Every experience has shaped you into the remarkable person you are today. As you blow out the candles on your birthday cake, remember that you are a beacon of light and hope to those around you. May your path be filled with richness and joy, and may you continue to inspire and uplift those fortunate enough to know you.
A Special Day for a Special Person
Today, the spotlight is on you, and rightfully so. Birthdays are not just about adding another year to your age; they're about celebrating the remarkable journey you've undertaken so far. You've touched hearts, made memories, and left a lasting impact on everyone fortunate enough to know you. As you open your arms to embrace the future, do so with confidence and courage, knowing that the best is yet to come.
In this Morning Dream Catcher Native American e-card, you hold the dreams of a brand new year in your hands. May your aspirations take flight like the feathers of the Dream Catcher, and may your heart be filled with gratitude for the love and warmth that surround you today and always.
In closing, remember that you are loved, cherished, and admired. Your birthday is not just a day to receive gifts but a day to receive the love and admiration of all those whose lives you've touched. May today and all the days ahead be filled with amazing moments, and may you continue to chase your dreams with unwavering determination.
Happy Birthday, dear friend. Your journey is a beautiful one, and we can't wait to see where it leads you next.
You could have come here with these search terms: Birthday gift ideas, birthday ecard dream (1), free birthday cards, birthday
videos
.