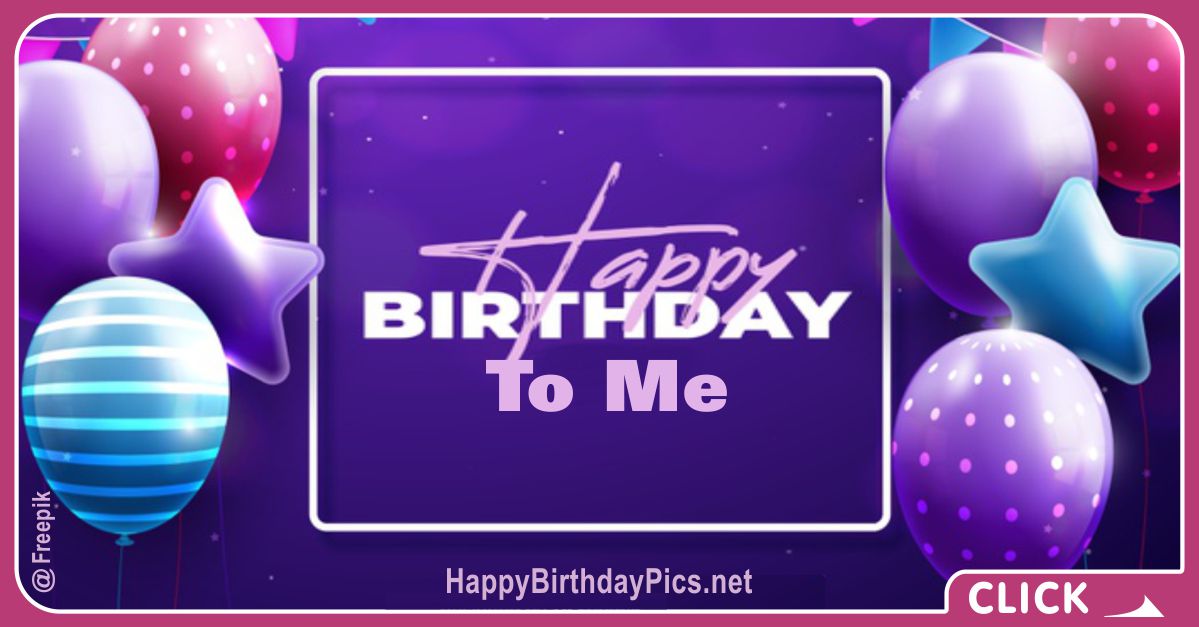 Happy Birthday to Me with Purple Balloons Party
Celebrating My Birthday with a Purple Balloons Party… Today is my special day, my birthday! As I commemorate another year of life, I am thrilled to share my joy with you through this heartfelt "Happy Birthday to Me with Purple Balloons Party" e-card. I have big plans to make this birthday unforgettable, filled with fun, surprises, heartfelt wishes, and perhaps even some exciting travels.
To mark the occasion and express my excitement, I have chosen this unique "Happy Birthday to Me – Purple Balloons Party" e-card. While planning a birthday party can be quite an endeavor, it's a celebration that's truly worth every effort. Of course, I'd be overjoyed if someone would take the reins and help me organize this memorable event.
Exploring the "Happy Birthday to Me Purple Balloons" e-Card
The "Happy Birthday to Me Purple Balloons" e-card is a delightful choice for conveying both my congratulations and announcing my upcoming purple-themed birthday bash. It radiates the vibrancy of a purple party adorned with balloons. The e-card features a rich dark purple backdrop that exudes a touch of magic and sparkle. The focal point of this design is the captivating balloons, some of which are beautifully shaped like stars. These balloons are carefully selected to harmonize with the overarching purple theme of the e-card, with additional accents of blue and pink that blend seamlessly within this thematic context.
The text "Happy Birthday to Me" is artfully presented, with the top word boasting a charming handwritten style and color that perfectly complements the overall theme. The entire composition of the e-card imparts a sense of grandeur, reminiscent of a logo you might find at a glamorous talent show. This is precisely the level of quality and extravagance I envision for my birthday celebration. The e-card's sparkling elements and dynamic design elements evoke a sense of excitement and anticipation. It truly encapsulates the spirit of my birthday celebration, allowing me to wholeheartedly exclaim, "Happy birthday to me!"
Making My Birthday Dreams Come True
Planning a birthday party is an exciting journey that allows me to turn my dreams into reality. While it might seem daunting, it's an adventure filled with endless possibilities. Here are some of the key elements I'm considering to make my "Purple Balloons Party" a resounding success:
Party Rentals: I'm exploring various party rental options to ensure I have everything I need to create a magical atmosphere. This includes tables, chairs, and perhaps even special lighting to enhance the ambiance.
Party Decorations: Given the purple theme, I'm envisioning a captivating décor scheme that incorporates an abundance of purple balloons, shimmering stars, and complementary blue and pink accents. Balloon arches and centerpieces will play a central role in creating a festive atmosphere.
Entertainment: No party is complete without entertainment. I'm considering hiring a live band or a DJ to keep the energy high and the dance floor bustling with excitement.
Party Catering: Delectable food and beverages are essential for any successful celebration. I'm exploring catering options that will delight my guests with a diverse menu, including some purple-themed treats.
Party Invitations: To ensure my guests are as excited as I am about the "Purple Balloons Party," I'll be sending out elegant invitations that capture the essence of the celebration.
As I embark on this journey to create the ultimate birthday celebration, I'm filled with anticipation and joy. My "Happy Birthday to Me with Purple Balloons Party" e-card is just the beginning of what promises to be an unforgettable experience. I look forward to sharing this special day with friends and loved ones, making cherished memories that will last a lifetime. Together, we'll celebrate life, friendship, and the joy of another year lived to the fullest.
So, as the countdown to my birthday begins, I extend my warmest invitation to join me on this remarkable journey. Together, we'll paint the town purple and let the balloons of joy and happiness fill the sky. Cheers to another year of growth, laughter, and unforgettable moments!
You could have come here with these search terms: Birthday
gift
ideas, https://happybirthdaypics net/card/my-birthday/happy-birthday-to-me-purple-balloons/ (1), free birthday cards, birthday
videos
.